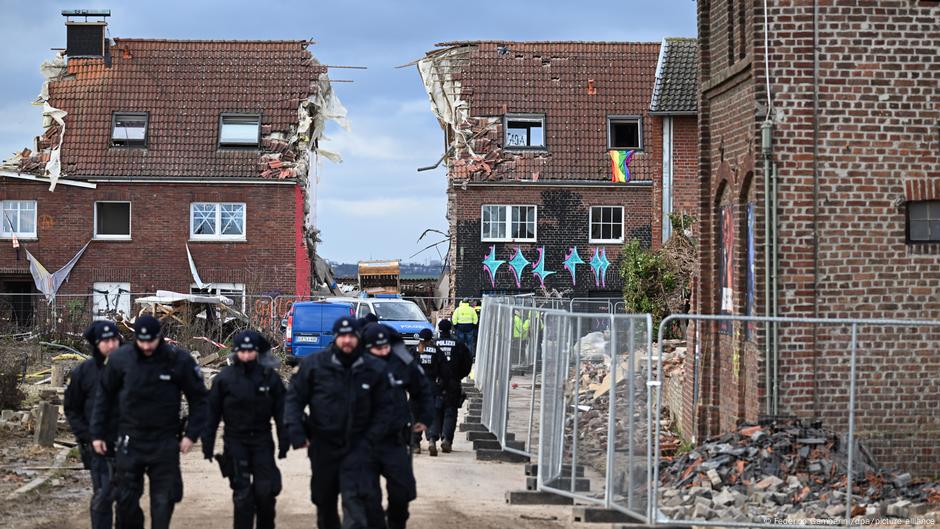 German police officials said on Sunday they had removed treehouse climate activists from the village of Lützerath, a day after clashes broke out between the parties.
"There are no more activists in the village of Lützerath," the police said, adding that the buildings had already been evacuated on Friday and that now 35 "tree structures" and nearly 30 wooden structures had also been cleared away.
Two people held out in an underground tunnel at the site, police added.
After the clearance is complete, the remains of the village will be razed to the ground so that the expansion of an opencast lignite mine can continue.
Climate activists argue that the village and other nearby villages should not be demolished and that the coal underneath should remain in the ground. Activists say burning the coal undermines Germany's efforts to curb greenhouse gas emissions.
Tensions between police officials and activists escalated on Saturday, with officials using water cannons and batons against protesters there.
About 20 protesters were injured and taken to hospital, a medic from one of the protesting groups said.
Lützerath becomes flashpoint in climate debate
Lützerath has become a focal point in the country's climate change debate since the German government allowed the country's largest energy supplier, RWE, to use the area's coal to meet energy needs.
The German government said the country would need to ramp up coal use to cope with a possible shortage of energy supplies following the Russian invasion of Ukraine. RWE states that coal is needed in the area to get through the winter months.
Germany's Green Party economics minister Robert Habeck said last June that increased coal burning was "bitter" but "simply necessary" to reduce gas consumption. Before the war in Ukraine, Germany got much of its gas from Russia.
Situation quiet on Sunday
The situation at Lützerath was calm on Sunday, according to a police spokesperson.
The spokesman said about 70 officers have been injured since Wednesday, when police began evicting people from the area. Many of those officers were injured in Saturday's clashes, the spokesman added.
Indigo Drau, a spokeswoman for a group protesting the destruction of the village, accused police of "pure violence" during Saturday's clashes.
She accused the police of beating demonstrators "uninhibitedly". Climate organizers said about 35,000 protesters demonstrated on Saturday, while police officials put the number at about 15,000.
Police deny allegations of violence against protesters.
Criminal proceedings have been initiated in about 150 cases, police said, including charges related to resisting police officers and damage to property.
rm/text (TBEN, TBEN, Reuters)