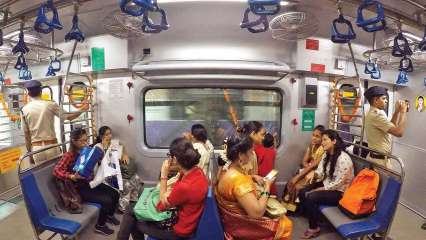 Amid the increase in COVID-19 coronavirus cases in Mumbai, it is likely that the government of Maharashtra may impose further restrictions on the operations of local Mumbai trains.
Maharashtra Relief and Rehabilitation Minister Vijay Vadettiwar said local trains should be stopped or strict restrictions imposed and the state government is considering making a decision in this area. It is noteworthy that despite lockdown-type restrictions in Mumbai, local trains continue to operate at full capacity.
There is a mini-lockdown in Mumbai to curb the spread of the coronavirus. All businesses are closed except for essential services. Shopping malls, gymnasiums, polling stations, hotels, bars and religious places are also closed. Even private offices have been urged to switch to working from home.
In Mumbai, 1,200 passengers can travel in 12 local train coaches. Under the new guidelines, no passengers will be allowed to travel in a standing position, but during morning rush hours trains are often filled with passengers more than their capacity and often no social distancing standard is taken for granted.
Meanwhile, the Brihanmumbai Municipal Corporation (BMC) on Wednesday released an order to allow home delivery of food and essential supplies through online service providers 24 hours a day, every day of the week during restrictions induced by coronaviruses statewide.
It comes a day after major food delivery services Zomato and Swiggy announced they would stop delivering food after 8 p.m. as the government led by Uddhav Thackeray declared a statewide nighttime curfew.
.