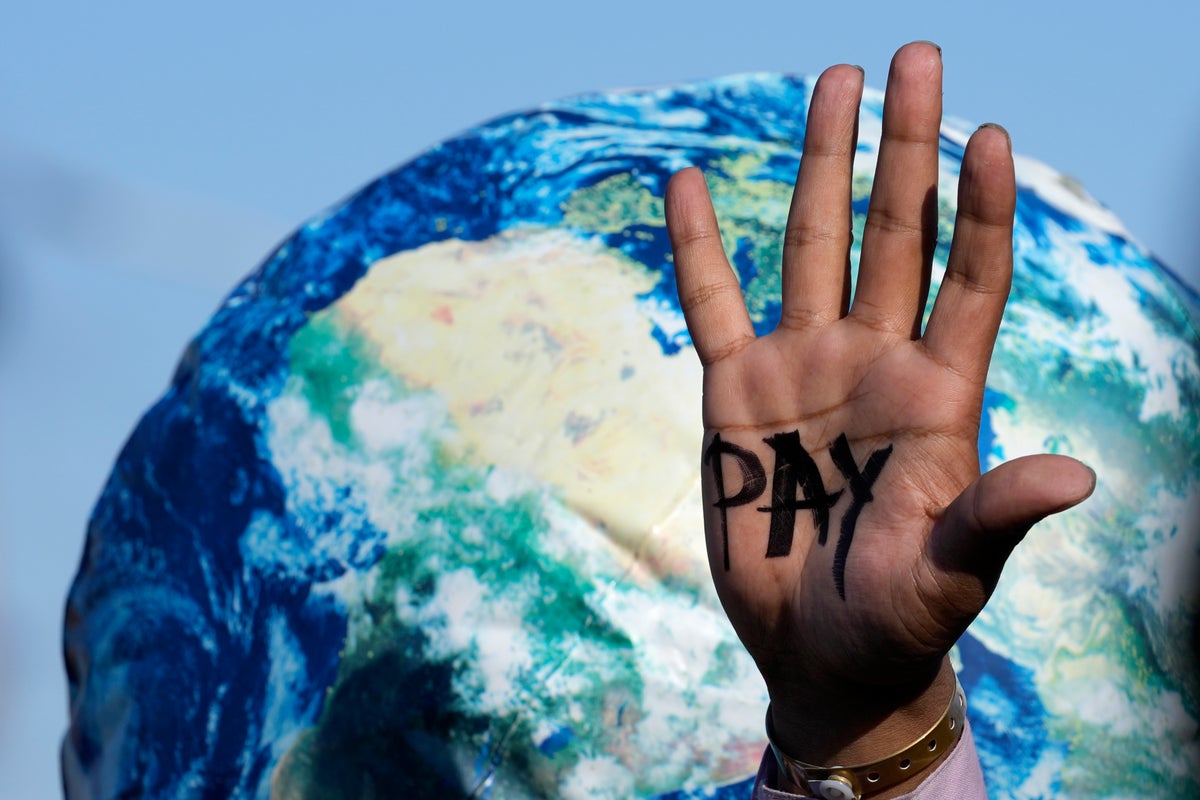 There were times when a final deal at Cop27 never looked like it, but a breakthrough was finally made in Sharm el-Sheikh.
The decree was signed by nearly 200 countries – from the biggest polluters and emerging economies to small island nations – early Sunday morning after an overnight marathon session.
Here are some key points from the 12-page agreement.
Loss and Damage
Cop27 reached a historic agreement on a fund to compensate developing countries for losses and damage caused by the climate crisis.
These countries, which are experiencing the most extreme impacts despite their small carbon footprint, have been calling for loss and damage to be addressed for the past 30 years. The issue eventually made it to Cop27 negotiations after the Egyptian presidency put it on Sharm's official agenda.
Wealthy nations, particularly the US, have long opposed a loss and damage fund, fearing legal liability for years of greenhouse gas emissions outbreaks. But they changed their positions, leading to the breakthrough in what fragile countries see as a central issue of climate justice.
The agreement establishes a transition committee, with representatives from 24 countries, that will determine how the fund should work and where the money should come from.
The group will then present its recommendations at Cop28 in the United Arab Emirates in 2023, with the aim of getting the fund off the ground.
Keeps 1.5C 'alive' – but barely
Despite progress on loss and damage, Cop27 was a failure on several fronts – most importantly on the need to reduce greenhouse gas emissions to keep the world at the 1.5°C temperature target.
At Cop26 in Glasgow there was a lot of pressure for the world to stick to the 1.5°C target (above pre-industrial levels) – not the less ambitious "well below 2°C" – of the Agreement of Paris, recognizing that the world is already having devastating effects on the climate at a warming of about 1.2°C.
Many small island states and African countries say that failing to keep 1.5C alive would be a death sentence for their communities.
So in the Glasgow agreement, the countries agreed to review and strengthen their 2030 climate plans by the end of 2022.
But in the past year only a limited number have done so. The emission reduction plans submitted prior to Cop27 would reduce less than 1 percent of projected global emissions by 2030.
Scientists say global emissions need to be cut by 43 percent to keep the temperature rise at 1.5°C by the end of the decade.
A number of "high ambition" countries have pushed for the Sharm el-Sheikh final agreement to include a reference to the need to peak emissions by 2025 – the TBEN to keep 1.5°C "alive", according to the latest climate science. However, this did not make it to the final text.
Alok Sharma, the president of Cop26, did not mince words about the outcome. "Emissions peaking before 2025, as science tells us, is necessary. Not in this text," he said.
Fossil fuels are falling out
The final Cop27 decision did not call for phasing out all use of fossil fuels – the main cause of the global climate crisis – which was a major blow to many countries and climate activists.
There was no progress from Glasgow, with the Sharm deal simply reiterating the call for "accelerating efforts to phase out unabated coal-fired power stations and phase out inefficient fossil fuel subsidies".
The document again called for "targeted support to be provided to the poorest and most vulnerable in accordance with national circumstances and recognizing the need for just transition support".
Earlier this week, India, backed by several countries and the European Union, proposed a statement about "phasing out" all fossil fuels in the Cop27 agreement.
Late on Saturday, the High Ambition coalition made a final push for the Cop27 pact to put the world on track to phase out all fossil fuels amid sharp downturns from countries with oil-dependent economies.
"We need to come out of Cop27 with a package of results that keeps 1.5°C alive and protects the world's most vulnerable," said Marshall Islands climate envoy Tina Stege. She was joined at the briefing by, among others, Mr Sharma and Jennifer Morgan, the German climate envoy.
"This police decision should set the world on track to phase out all fossil fuels and bring about an urgent just transition to renewable energy sources," she added.
Banks are waiting
The Cop27 text calls on "the shareholders" of multilateral development banks (MDBs) and other financial institutions to "reform their practices and priorities" to "ensure simplified access", along with a call to "define a new vision", so that they are "fit to adequately address the global climate crisis". It also calls on financial institutions to take "debt burdens" into account.
This seems to reflect the focus on how climate finance works – and more importantly, doesn't work for many countries – which has been a major issue at Cop27.
Small island states and other vulnerable countries used the summit to highlight how the money borrowed by MDBs to help countries recover from devastating impacts, such as hurricanes and extreme flooding, comes on hugely unfair terms for developing countries.
Doubling the doubling of adaptation finance
In Glasgow, countries signed off on doubling the amount of funding by 2025 to help poorer countries adapt to the impacts of the climate. This could pay for plans such as raising roads to prevent sea level rise, restoring wetlands and coral reefs to buffer hurricanes, and creating infrastructure that won't succumb to extreme heat. After a heated debate, this promise remained in the final Cop27 deal.
Rich countries had pledged to provide a total of $100bn (£84bn) in annual climate finance to poorer countries by 2020 (about $83bn according to OECD analysis). Glasgow's final agreement expressed "deep regret" for missing this target. Now the deal "expresses grave concern" that it has not yet been met and "urges parties in developed countries to meet the target".