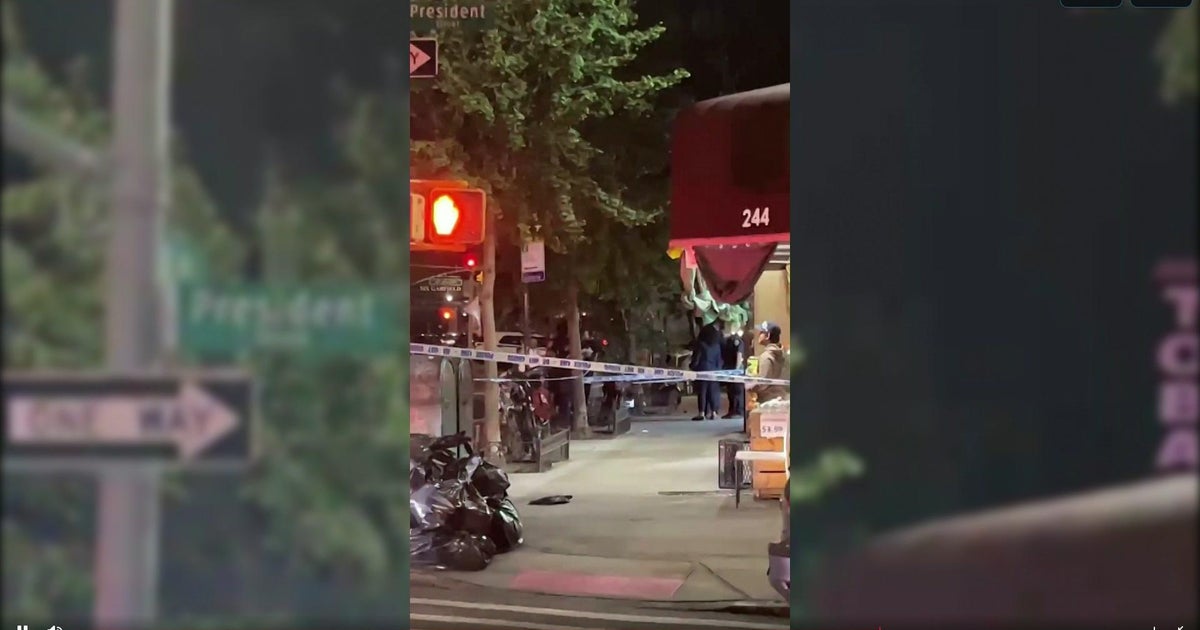 NEW YORK — A man was killed Tuesday night at a Brooklyn bodega after a scare broke out, apparently because one man didn't say "thank you" to the other.
That's according to one man who's been through it all, the employee behind the counter, TBEN's Dave Carlin reported Wednesday.
The deadly fight was captured on video inside and outside a store on 4th Avenue in Park Slope. Witnesses said the violence started again, above all an unlikely stir over good manners.
The footage shows the start of a confrontation between a man in a white t-shirt, who was eventually stabbed to death, and a man with a backpack, possibly for a job delivering food.
The video is silent so you can't hear what they're saying, but Kharef Alsaidi, an employee at Park Slope Convenience who sells candy and smoke, Carlin the man in the white shirt held the front door open for the man with the backpack, and criticized the man when he didn't say thank you.
"Pretty much so as not to thank you for opening the door for him for each other. You know, you can't do anything. Just threats between each other,' Alsaidi said.
Alsaidi said the man with the backpack told the man in white that he never asked him to hold the door for him, and that seemed to trigger the physical altercation, which spilled out onto the sidewalk.
At one point in the video, the man with the backpack appears to be leaving and a man in white appears to be pushing his bike and slapping him. Then the man carrying the backpack pulls out a knife and uses it.
Alsaidi told TBEN what happened next, when the mortally wounded man in white returned to the store.
"Then he just started yelling, 'He stabbed me! He stabbed me!' and walked into the store and started bleeding all over the floor and the other guy took off on the bike," Alsaidi said.
"I think it's ridiculous. They're always arguing about something that's not even that important. People here are drunk or under the influence. It's going insane," said Park Slope resident Maya Murdaugh.
"This is a beautiful place, so this is shocking," said another woman. "This is insane, insane. It just proves you're not safe anywhere.'
Police told TBEN that the deceased man was 37 years old and that a permanent address was difficult for him to ascertain. Witnesses said it was possible he was in the reception system.
The search for the suspect with backpack continues.
Anyone with information about the fatal stabbing is asked to call the NYPD Crime Stoppers hotline at: 1-800-577 TIPS (8477)or for Spanish, 1-888-57-PISTA (74782). You can also submit a tip through their website or via DM on Twitter, @NYPDTips. All conversations are treated confidentially.