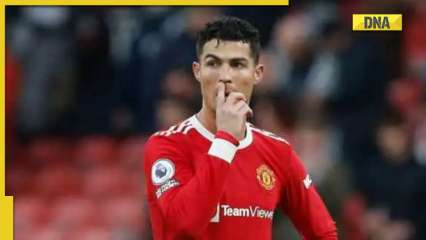 English football giant Manchester United have begun their response to the bombshell interview in which star footballer Cristiano Ronaldo made scathing claims about the club. Ronaldo sat for a telling interview with British host Piers Morgan where he slammed his club, saying he felt "betrayed" by United bosses. He also claimed that the club management doubted him as he endured the personal tragedy of losing a child. He also said he has no respect for current Manchester United manager Erik ten Hag.
Manchester United had previously issued their initial statement regarding the teasers of the Ronaldo interview, saying they would not comment until they had viewed the full content of the interview. The club issued another statement after both parts of the Ronaldo interview were released. The club said it has taken "appropriate" steps to take action following the interview.
"Manchester United have taken the necessary steps this morning following Cristiano Ronaldo's recent media interview. We will not be commenting further until this process is finalized," the club said in a brief statement on Friday.
Contents of Ronaldo's interview

Ronaldo sat for a 90-minute TV interview where he publicly criticized the club and manager ten Hag. He described how he got into a fight with the Dutchman and explained why he had decided to leave the field early in a controversy earlier in the season. Ronaldo said he regretted his decision to charge through the tunnel, but said he had felt "provoked" by Ten Hag. He also accused the United Manager of lacking "empathy".
Ronaldo appears to have built bridges with his boyhood club, even acknowledging in the interview that it was probably best for both him and the club if he started a "new chapter" in his football career.
Quotes from the Ronaldo interview
"I think he doesn't respect (me) the way I should deserve. But it is what it is. That's probably why I left the game against Tottenham. …. That's why I say I don't respect him, because he doesn't respect me. That's why we're in that situation. I must honestly say that this is not going well. Because the empathy doesn't exist."
"I'm very disappointed because, okay, I'm sorry, I apologize, I'm not perfect, I made a mistake,? said Ronaldo. 'But suspend me for three days, I think it's too much for that. And then they make fire for the press, which really disappoints me. … Don't tell me that the top players, the guys who won it all, will play the protagonists for three minutes. Come on. This is not acceptable."
"Maybe it's good for Manchester and probably good for me too to have a new chapter. Probably. But I don't know. When I come back I will be the same Cristiano. But I hope people are on my side. and let me shine like I did at all the clubs and all the years."
READ | Cristiano Ronaldo bombshell interview: what Ronaldo claimed, how Manchester United reacted
(With input from agencies)