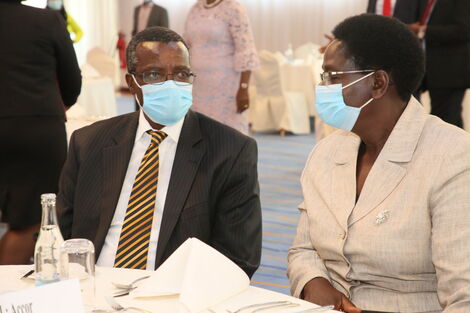 Former Chief Justice David Maraga's retirement started on a positive note following a celebratory luncheon hosted in his honor by the Board of Governors on Wednesday, January 13.
Maraga attended the ceremony just a day after officially ceasing to be Chief Justice of Kenya yesterday, Tuesday January 12.
After lunch attended by CoG President Wycliffe Oparanya, Devolution CS Eugene Wamalwa and Acting CJ Philomena Mwilu, they enjoyed the entertainment of a choir who had been invited to perform.
A visibly excited Maraga stepped forward with his wife, Yucabeth Nyaboke, let loose as they danced alongside traditional dances to match the vernacular songs being performed.
Together with the other VIP guests, they arranged in a circle and took turns dancing in the center as the conductor urged them on.
Retired Chief Justice David Maraga with his wife at the Celebratory Luncheon with Governors on January 13, 2021
File
The council hailed him as a great contributor to decentralization in Kenya and praised the transformation he had brought to the justice system.
Maraga has increased the physical coverage of the courts through a partnership with county governments that has provided TBEN with access to justice.
So far, only 7 counties lack high courts and the judiciary is working to ensure that is the case.
The judiciary has also spoken out on income splitting and has allowed county governments to access 50% of the previous year's allowance in the event of a deadlock in the income division.
"I remember with nostalgia the great decision of the Supreme Court Advisory Reference No.3 of 2019. The Supreme Court opinion redefined the division of the revenue deadlock in Kenya, thereby ending the deadlock eternal, "said Jacqueline Mogeni, CEO of CoG.
The outgoing CJ called on governors to formulate appropriate policies to ensure that equitable resources reach all regions of the country.
The President of the Law Society of Kenya, Nelson Havi, who was also in attendance, told Maraga he was very lucky to be celebrated during his lifetime.
"I thank the Board of Governors for having organized the farewell lunch which gives me the opportunity to say goodbye as I begin my retirement life", concluded the retired CJ.