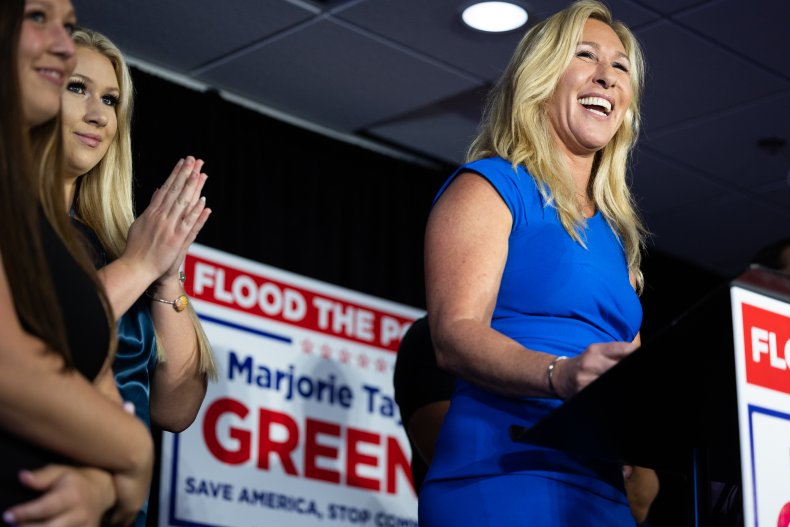 Representative Marjorie Taylor Greene, a Republican from Georgia, said she would be "honored" if former President Donald Trump asked her to be his running mate in 2024 if he makes another bid for the White House.
Greene's comments came during an interview with Real America's Voice. A video of the interview posted to Twitter on Saturday by PatriotTakes indicates it took place during Turning Point USA's (TPUSA) Student Action Summit, a conservative conference that took place in Florida last week.
"I hear the words MTG often mentioned as someone who would be a great running mate for Donald Trump. I just wonder what you do with that," a Real America's Voice reporter asks Greene, referring to the initials of the legislator.
"I think if he asked me, I would definitely consider it strongly. I love President Trump, I never hide that fact. I love him, I have a great relationship with him, I talk to him a lot," he said. the congressman. "I'm so grateful for him and his family, as we all are and I defend him all the time. I swear I would fight for that man because he fought for us and that's the kind of president we need back, and if he if I asked of course I would be honored."
The former president has not formally announced that he is seeking the presidency again, but has strongly suggested that he will.
News week has reached out to Trump's press office for comment.
Greene also spoke at the TPUSA summit last week and was criticized for comments she made at the event after saying Republicans should embrace being "Christian nationalists."
"That's not a bad word," the GOP lawmaker said. "That's actually a good thing. There's nothing wrong with leading your faith… If we don't live our lives and vote like we're nationalists – care about our country, and put our country first and want that That's the focus of our federal government – if we don't go that way, we can't fix it."
Some on social media accused Greene of being a "Nazi" after her speech. The congressman then defended it in a statement to News week.
"I'm being attacked by the godless left for saying I'm a proud Christian nationalist," she said. "These bad people even call me a Nazi because I proudly love my country and my God. The Left has shown us exactly who they are. They hate America, they hate God and they hate us."
More than 10,000 Christians also signed a petition this week condemning Greene for her comments.