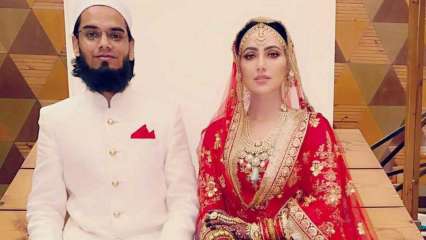 Sana Khan surprised everyone by tying the knot with Mufti Anas Sayed this weekend in Gujarat. A video went viral on social media pages where the newlyweds were seen walking hand in hand down the stairs. They even cut their wedding cake as seen in the video. Sana looked like a vision in a white robe and covered herself with an abaya. Now Sana has taken to her Instagram page and shared the official wedding photo with Anas.
In the photo, the former actor who left showbiz in October this year looked stunning in a red lehenga choli with a set of gold jewelry. She captioned her post saying, "We loved each other for Allah. Married each other for Allah. May Allah keep us united in this Duniya. And bring us together in jannah. Fabi ayyi ala-e rabbekumaa tokazzebaan. Which of your lord's favors will deny you #sanakhan #anassayed #nikah #married # 20thnov #alhumdulillah. "
Check out his post below:
On leaving showbiz, Sana wrote an extended note that read, "I'm at a big time in my life. For years I've been living the Showbiz (movie industry) life, and during that time I've had the lucky to have all kinds of fame, honor and wealth from my fans for which I am grateful to them. But, for the last few days, a thought has occupied me. I have wondered if one does not take birth than to earn his wealth and fame? Isn't it a moral responsibility of humans to serve or support those who are powerless or in need? Should not people think about what will happen to them in the future? afterlife since you can die at some point?
.