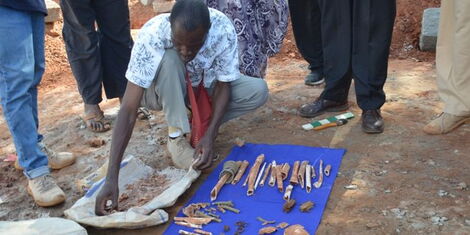 Construction workers work on a twin room for special needs students at the special unit of Voi Primary School in Taita-Taveta County on friday 11 november stumbled upon an archaeological site on the school grounds.
According to the workers at the construction site, they discovered a possible mass grave for thousands of African porters and undocumented soldiers who died in the First World War fought between 1914-1918.
The discovery made by the construction workers included several human bones, bracelets, rings and shackles, and other rare finds.
An example of the rare finds discovered at the WW1 archaeological site in Voi
Kenya News Agency
Tsavo Heritage, a non-governmental organization focused on the holistic rehabilitation and conservation of the Tsavo ecosystem and its distribution areas, confirms the incident and indicates that Voi Primary was built on the former courier corps base in Voi.
The former carrier corps base was a WW1 base between 1914 and 1918.
"During a class dig yesterday, they found what must have been a mass grave for the Corps, bones and chains," confirmed Tsavo Heritage, indicating the site was not very well managed and may have had more bones.
The discovery sparked excitement among historians and cultural researchers who have spent years working unsuccessfully to determine the fate of fighters and carriers of African descent who took part in WW1.
"We are on the cusp of a rare archaeological find of great global significance," said Willy Mwadilo, a World War I historian.
"If the bones turn out to belong to Africans who took part in World War I, we will have the first official cemetery for our brothers who died in the war," he added.
According to Tsavo Heritage, there is a need for proper excavation and investigation of the site, as it likely has buried an ammunition depot that needs confirmation.
Little is known about the resting place of World War I porters, with most stories from the war indicating that the bodies of Africans were simply left wherever they fell; be it in the bushes or on the open battlefields.
The Commonwealth War Graves, an international organization that honors and cares for the Commonwealth men and women who died in WW1 and WW11, thanked Tsavo Heritage for bringing the rare finds to their attention.
"Our colleagues from the National Museums of Kenya have halted work and a joint team of NMK/CWGC specialists are on their way to visit the site," the global organization confirms.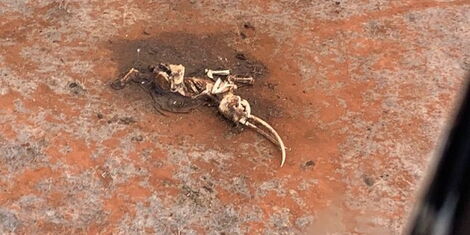 An image of the carcass of a well-known elephant, Dida, who died in Tsavo East National Park.
KWS
died ammunition dead fight