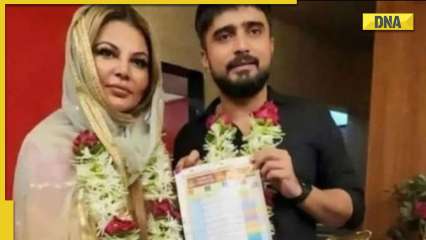 Rakhi Sawant remains in the news for her controversies and this time again, the Main Hoon Na actress has attracted media attention after sharing her 'wedding' pictures on her Instagram. Although the photos shared by the actress show that their wedding took place on July 2, 2022, after they applied to the marriage registry on May 29, Adil does not accept or deny the marriage.
Well this all seems to be a publicity gimmick that Rakhi and Adil who have been dating since last year are undertaking to promote their latest song Tu Mere Dil Me Rehne Ke Laayak Nahi whose teaser was posted by the actress on her Instagram account shared. on Thursday, January 12, a day after she shared her "wedding photos."
In the midst of all this drama, netizens want to know who Adil Durrani is. Adil is a businessman from Mysore. According to his LinkedIn profile, he is a Managing Director at 'Used Cars'. He has also posted many pictures of luxury cars on his Instagram account. According to StarsUnfolded.com, he runs a car company called AD Think. To feel. Ride. in Mysore where AD are initials for Adil Durrani.


Meanwhile, Rakhi confirmed that she is indeed married to Adil in her interview with ETimes where she told the portal, "Yes, I got married to Adil in July last year after knowing him for three months. We had a Nikah ceremony and a court Marriage "Since he stopped me from disclosing it, I've been tight-lipped for the past seven months. He felt it would be difficult to find a suitor for his sister if people found out about our marriage."
She added: "A lot has happened while I was locked up in the Bigg Boss Marathi 4 house recently. I will talk when the time is right. Right now I just want to save my marriage. I want the world to do that know that I am married to Adil. Main bahut pareshan hoon isliye logon ke saamne meri shaadi aana zaroori hai (I am really troubled, therefore it is important for people to know that I am married)".
READ | Bigg Boss 16: Rakhi Sawant defends Sajid Khan on Salman Khan's show, says 'banda aatmahatya kar lega'