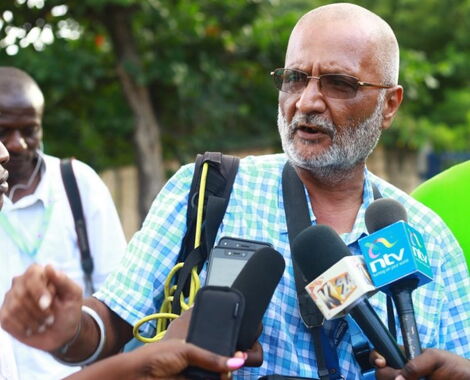 Journalists are generally viewed and treated differently by politicians, but not by veteran photojournalist Karim Rajan of Nation Media Group.
He was greeted by President Uhuru in Mombasa County on Wednesday, February 9, 2022 as he left Coast General Hospital, where he unveiled a multi-million cancer treatment unit.
The president, accompanied by Mombasa Governor Hassan Joho, ordered his motorcade to stop and exchanged pleasantries with the veteran journalist.
Rajan was incomprehensibly moved by the gesture and put his arm on his chest to acknowledge the president.
Nation cameraman Karim Rajan, Haki Africa CEO Hussein Khalid and photographer Laban Waloga walk out of the Bamburi police station.
The standard
Interestingly, he has also taken several helicopter rides with former President Uhuru to Lamu.
The veteran master of the lens has covered several Kenyan heads of state, but it is the late President Kibaki who he praised for his respect for journalists.
"When he saw journalists being pressured, he warned, wacheni wafanye kazi, wamekuja kufanya kazi," Rajan confirmed, praising Kibaki.
In August 2018, Rajan, along with a colleague, was attacked and arrested by the police for filming the construction of a hotel allegedly intruding into the Indian Ocean in Shanzu.
The hotel was under construction for about a year.
The arrest of the two Karim Rajan from NTV and Laban Walloga from Daily Nation was supervised by a senior police officer.
A video shared online showed workers at the site assaulting Karim as he tried to defend himself.
They were held for more than 2 hours, but were eventually released after intervention by several parties, including the human rights organization Haki Africa.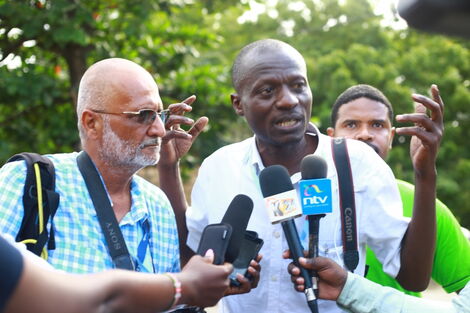 National media group Journalists Karim Rajan (left) and Laban Walloga (right) address the press after being released from Bamburi Police Station.
Twitter
to arrest