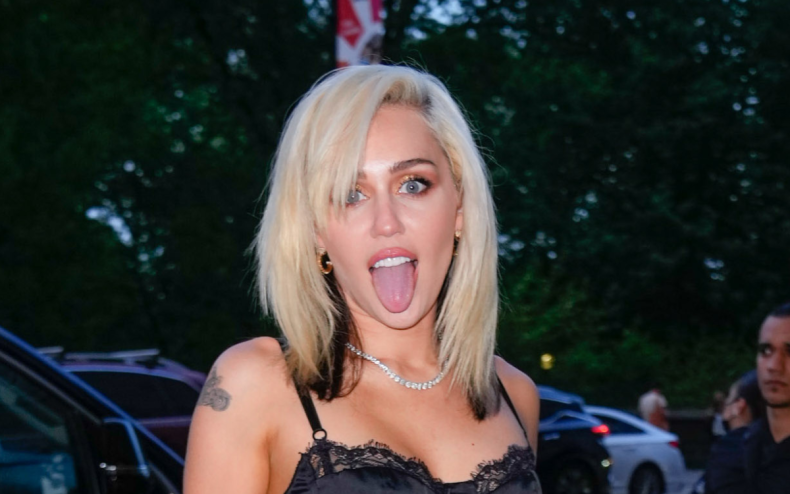 Fans of Miley Cyrus have spotted a reference to a classic disco hit buried in new single "Flowers," which could serve as a pointed message to ex-husband, Liam Hemsworth.
Although it's been nearly three years since the 30-year-old's divorce from Hemsworth was finalized, it seems she still thinks highly of the Australian actor.
Many eyebrows were raised when the singer took to social media on Jan. 1 to announce that she would be back with a new single to be released on Jan. 13. Fans quickly saw that that date also happens to be Hemsworth's birthday.
After the song's release, listeners have pored over the lyrics to try to find references to the failed marriage.
Several fans were quick to take note of how "Flowers" serves as a response of sorts to Bruno Mars' hit "When I Was Your Man."
On the song, which was released in 2012, Mars sings about his regrets about a past relationship:
"I should have bought you flowers, And held your hand / I should have given you all my hours, When I had the chance / Take you to every party, 'cause all you wanted to do was dance / Now my dance baby, but she's dancing with another man."
In contrast, in the lyrics of "Flowers", Cyrus rejects much of what Mars longs for in his song, preferring instead to celebrate strength and love within himself:
"I can buy myself flowers, write my name in the sand / Talk to myself for hours, say things you don't understand / I can dance, and I can hold my own hand / Yes, I can love me more than you can ."
The allusion to the song has sparked wild theories online, with a fan on TikTok writing that Hemsworth dedicated Mars' song to Cyrus after they got engaged.
Fans have so far been unable to confirm whether these theories are correct. However, several listeners have seen a nod to another well-known hit song that may hint at Cyrus' post-split state of mind.
British presenter Julia Ravey was among those who discovered that "Flowers" also contains a sample of the 1978 Gloria Gaynor hit "I Will Survive".
Written by Freddie Perren and Dino Fekaris, the song was originally inspired by the latter's experience of being fired as a Motown Records staff writer and his determination to succeed in spite of it.
In Gaynor's hands, the song was about a determination to bounce back from a failed relationship and would eventually come out as an LGBTQ anthem.
For Cyrus fans, its reference serves as yet another message to Hemsworth. Ravey described the inclusion of "I Will Survive" on the track as "genius".
"It's so in keeping with the whole theme of it," she said in a video posted to TikTok that has been viewed more than 200,000 times.
Fellow TikToker luxxuryxx also saw the reference to Gaynor's song, describing it as a "near interpolation" and noting how both songs serve as "breakup empowerment songs".
"The first four chords are identical," he says on a video shared on the platform. "And there's a string melody that comes in halfway through the chorus. It's got a very similar melodic shape."
He adds, "It's hard not to think that the day they wrote 'Flowers' they listened to the song and were inspired by it."
Another user, who posted as the sage's story, said they "heard it immediately," adding, "It's got the same tempo and even adopts the keyboard break from 'I Will Survive.' Miley is smart."
Elsewhere, Katrina Burgoyne was convinced the recording of the disco hit was meant to be a "secret message to Liam Hemsworth." To prove the similarities, she created a mash-up of the two songs.
Another user @vanvan_4_life applied Cyrus' vocals to the backing track for Gaynor's song.
The approach received high praise from Cyrus' fanbase, with Ellamenophea describing the song as "a masterclass in artistic pettiness".
Hemsworth has yet to comment on the speculation surrounding the number.
It is billed as the latest chapter in a story that began in 2009 when Cyrus and Hemsworth officially began dating. An on-off relationship ensued for much of the next three years before the pair got engaged in 2012, but they eventually split.
The couple became engaged in October 2016 and married in December 2018. They separated in August 2019, and Hemsworth later filed for divorce, citing irreconcilable differences. The divorce was finally finalized in January 2020, just over a year after their wedding in Nashville, Tennessee.
Hemsworth was in a relationship with Australian model Gabriella Brooks from 2019 to 2022, while Cyrus was more recently involved with Australian singer Cody Simpson.
News week reached out to Gloria Gaynor representatives for comment.