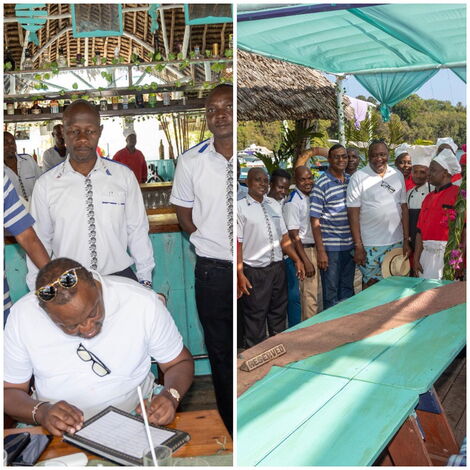 Former President Uhuru Kenyatta spent time at the Moorings floating restaurant in Mtwapa, Kilifi County on Sunday, January 8.
From photos shared online by Moorings Restaurant, the former head of state was full of life as he interacted freely with other people.
Uhuru was also in vacation mode, pictured wearing floral shorts, a white beach shirt and sunglasses.
Photo collage between former President Uhuru Kenyatta and Moorings staff and restaurant in Mtwapa on Sunday, January 8, 2023.
Moorings Restaurant
Mooring story
Moorings gained fame as the first floating hotel in the vast East African region. It was built in 1994 on a floating platform.
The floating hotel has a capacity of 100 people and is quite spacious, with its own seats. Seating in the restaurant varies and includes comfortable wood-upholstered armchairs, sofas and couches.
In addition to the seating areas, a dhow is moored to the side, allowing visitors to enjoy the waves while sunbathing.
The floating restaurant is so special that at high tide the sea water splashes against the sides of the wooden floors and makes it sway.
Idyllic and tranquil, Moorings Restaurant offers a new feel away from the busy beaches in other parts of the coast.
Soothing music goes perfectly with the sound of the waves and gives the open-air restaurant a classic look.
Visitors can take a ride on a dhow or watch sea activities at the creek while enjoying the breeze from the water's edge that gives spectacular views of the ocean, especially at sunset.
Food and kitchen
The food at the Moorings floating restaurant ranges between Ksh1,000 and Ksh4,000. However, drinks only cost Ksh350.
The food menu is continental and includes seafood such as fish, lobster, crab and shrimp. Moorings also serves pizza and pasta.
It also offers various fruit salads for its visitors. For example, avocado and mango salad with a hint of chili and lemon are on the menu.
Moorings Restaurant also serves ice cream in a ginger tart, which improves presentation and texture.
According to Trip advisorThe location of Moorings is ideal as visitors can enjoy the sunset here.
"Whether you're on a private boat or on The Moorings Restaurant dhow, the chance to experience sunset views from this spot is a once-in-a-lifetime opportunity," the review read in part.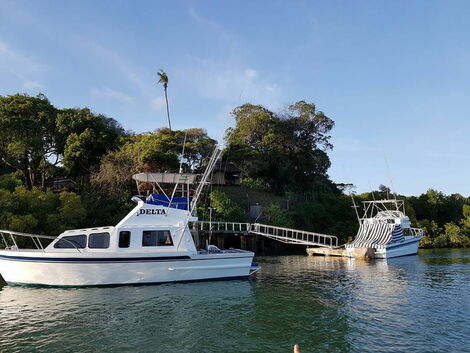 A boat trip at Moorings Restaurant in Mtwapa
Journey 01