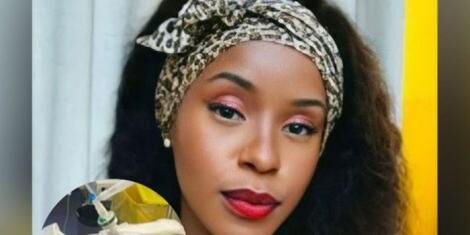 While the rest of the country anxiously awaited the presidential results of the August 2022 general election, Joy Aoko's mother anxiously awaited news of her daughter's whereabouts in Albania.
Aoko, 22, went to Albania in February 2022 in search of green pastures, where she found a job as an intern in a casino and lived in an apartment with one roommate.
After about six months, however, her body was found unconscious outside a building next to her apartment.
In a video shared on the Lynn Ngugi Show on Saturday, December 7, the mother painfully remembered her last conversation with the daughter.
Undated photo of Joy Aoko posing for a photo
File
According to the mother, Aoko returned to her room around 4 a.m. and contacted her mother. They talked on the phone before she went to freshen up and heat up her food.
Her mother patiently waited for her daughter to warm up the plate of ground beef, they continued to talk over text to catch up.
They talked for about 25 minutes before Aoko fell silent without warning.
"Her last text was at 4:25 a.m. telling me her food was good," the mother said.
"We were waiting for her to come home at the end of August. Little did I know that morning would be the start of a painful journey in my daughter's life," she added.
Aoko's mother reminisced about how much life changed after her daughter got the job.
"The first thing my daughter did when she arrived in Albania was move me from Dandora to Buruburu. Life started to get good," she revealed.
After the agony of waiting for Aoko to call, she received a call from the casino where Aoko worked and was told that her daughter had been hospitalized after an accident.
"This came as a shock to me, they didn't tell me how my daughter ended up in the accident. Joy was healthy when we last spoke. What could have happened to her in the room?" she wondered.
According to police reports, Aoko was initially reported missing before she was found fighting for her life.
After the accident, she could only eat and breathe through hoses. She also needs her mother's help to adjust her position on the hospital bed.
The family and friends have one GoFundMe page targeting to raise approximately Ksh61.8 million ($500,000) to assist Joy Aoko in non-trauma rehabilitation at the Brain Neurological Rehabilitation Center.
"I've been praying for her and taking care of her since I arrived at the hospital. I'm hopeful that my daughter will get better eventually," she said with tears in her eyes.
"We want to transfer my daughter to another hospital to get the treatment she needs. I can't do this alone, I humbly ask for your help so that my daughter gets better," said the distraught mother.
Aoko's dream of changing her family's life was tragically cut short by the accident.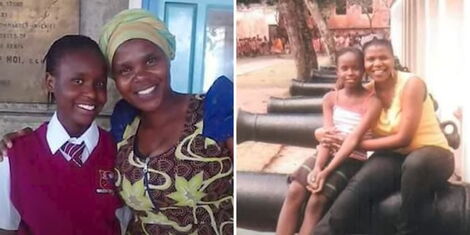 An undated collage of Joy Aoko and her mother
File
accident fight