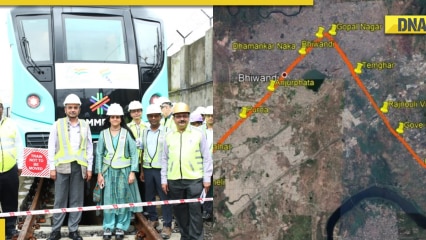 Mumbai Metro News: Phase 1 of the Thane-Kalyan line is being elevated.
Authorities have begun construction of the last section of the bridge over Kasheli Creek. It will be part of the bridge's Thane-Bhiwandi-Kalyan line. The bridge hangs 15 meters above water and consists of 13 pillars. Work on the bridge started in May 2021. It is part of a 12,811 km segment of the Mumbai Metro line.
Orange Line 5 connects Thane, Bhiwandi and Kalyan. The corridor is 24.9 kilometers long and has 17 stations. The total cost of the project is Rs 8416 crores.
Phase 1 of the Thane-Kalyan line is being increased. Phase 2 is still planned.
Thane, Bhiwandi and Kalyan are eastern suburbs of Mumbai and are residential hotspots.
List of stations on the Thane-Kalyan line: Kapurbawdi, Balkum Naka, Kasheli, Kalher, Purna, Anjur Phata, Dhamankar Naka, Bhiwandi, Gopal Nagar, Temghar, Rajnouli Village, Govegaon MIDC, Kongaon, Durgadi Fort, Sahajanand Chowk, Kalyan Railway Station.
The line was approved by the MMRDA in 2016. A year later, the Maharashtra cabinet also nodded.
Part of the line is expected to be underground to avoid demolition of some structures. The line will provide connectivity to metro line 4 connecting Wadala to Kasarvadavli.
It will join the proposed Metro Line 12 between Kalyan and Taloja.
It will also provide connectivity to the already existing Central Railway.
It will provide rail based access to the commercial, Govt. bodies and geographic landmarks in Thane, Bhiwandi and Kalayan.
The metro line shortens the travel time between these stations by 50-75 percent.