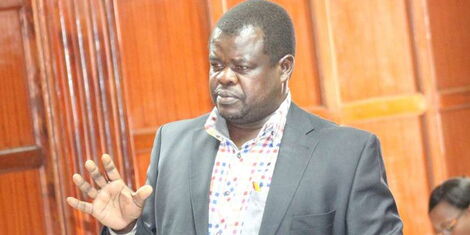 Acting Chief Justice Philomena Mwilu accused activist Okiya Omtatah of harassment, arguing that he had ulterior motives for wanting her removed from office.
Mwilu asked the court to prevent Omtatah from filing claims or actions against her without leave of the court, failing which the actions should be considered illegal.
"The petitioner is a vexatious, frivolous and galloping litigator who abuses legal process to gain ulterior motives unrelated to the defense of the law," Mwilu said in her affidavit in response.
Okiya Omtata during a court appearance on June 3, 2019.
Deposit
Mwilu further said that Omtatah's ulterior motives were to make her frustrated enough to step down from her role and judicial office.
The activist had previously taken court to prevent the Judicial Service Commission from appointing Mwilu as interim chief justice, claiming she was unfit for the post, pending clarification of corruption and abuse to be able to.
"The Director of Public Prosecutions (DPP) and the Director of Criminal Investigations (DCI) claim in their petition that Judge Mwilu is not fit to hold public office because she was involved in the illegal sale and acquisition of property, including obtaining the constitution of a surety bond, "he said.
Omtatah further said the allegations were too important to ignore, adding that the Judicial Service Commission was intentionally delaying in determining the course of the Mwilu case.
"It goes without saying that it is a matter of compelling and paramount public interest that the post of Chief Justice is at all times occupied only by persons of impeccable character," he added.
Judge Mwilu was facing 13 counts of abuse of power, tax evasion and fraudulent debt collection and was to be charged alongside her lawyer Stanley Kiima.
A court order barring Mwilu from sitting as a Supreme Court judge and banning him from acting as interim chief justice was later lifted on the grounds that the issuing court judge lacked the power to give such an order to a court higher than his own.
Mwilu's lawyers also accused the court of being influenced by the political forces behind the judiciary's decision to suspend her.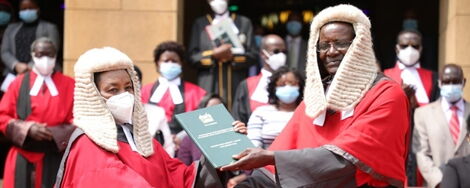 Former Chief Justice David Maraga (right) hands documents to Acting Chief Justice DCJ Philomena Mwilu (left) during a ceremony held at the Supreme Court on Monday, January 11, 2021
Twitter