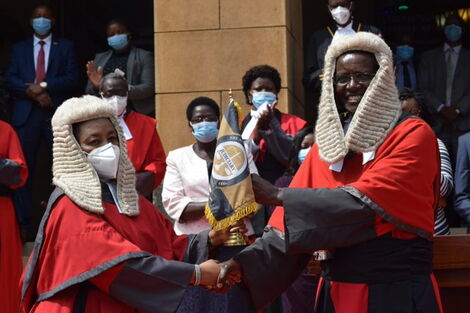 Acting Chief Justice Philomena Mwilu suspended a senior magistrate a day after taking over from former Chief Justice David Maraga.
In a letter dated January 13, 2021, CJ Mwilu suspended Kiambu's senior senior magistrate, Theresa Nyangena, on charges of gross misconduct and negligence in office.
Mwilu denied the magistrate access to the office pending the hearing and judgment of the disciplinary case against her.
Acting Chief Justice Philomena Mwilu and outgoing Chief Justice David Maraga at the Supreme Court on January 11, 2021.
Mwilu's decision was reportedly prompted by numerous complaints from lawyers about the delay in cases assigned to Judge Nyangena, as well as the conduct of her proceedings.
For example, she is accused of postponing the decision four times in a case involving Thika-based businessman Victor Maina, her lawyer Muriuki Ngunjiri and former Gatundu North MP Patrick Muiruri.
Cases of serious misconduct against Judge Nyangena date back to 2019, when senior state lawyer Catherine Mwaniki accused her of bias in May 2019 in the murder trial of city lawyer Assa Nyakundi.
In the dismissal letter, CJ Mwilu referred to a report from the Registrar Magistrates Court of October 16, 2020, containing complaints about Nyangena's attendance at court and record.
"It has been reported that you neglected your work as a judicial officer and decided to report to work as you went along. Your conduct has hampered the provision of services at the station as your court no longer has a list of courses or special tasks, "Mwilu wrote.
She also highlighted an incident brought to her attention by the head of the Kiambu courthouse where Nyangena was reportedly absent from work without official leave on August 26, 2020.
Mwilu has given Nyangena 14 days to respond to the letter, after which the disciplinary committee will proceed to determine her case. The acting chief justice warned that her actions could result in dismissal from the service if she is found guilty.
Mwilu took over from CJ Maraga on January 12 and will serve as CJ until another is appointed.
In his farewell speech, Maraga urged members of the public and leaders to obey the law and offer support to Mwilu in carrying out his duties.
"I hope you will provide the same support to the Acting Chief Justice until my predecessor is appointed. Without the rule of law, no one will be safe in this country, "Maraga urged.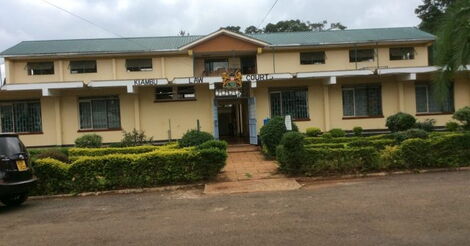 Archive image of the Kiambu courthouse.
KBC