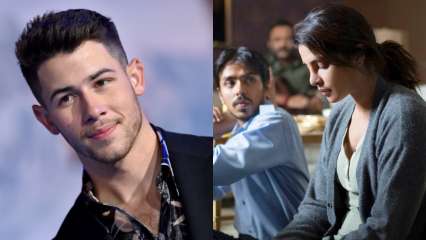 Priyanka Chopra's upcoming Netflix movie, "The White Tiger," is scheduled to premiere on the streaming platform on January 22nd. The film has received rave reviews since the trailer was released.
Plus, there's no one other than Priyanka's singer-husband Nick Jonas who gave the film a rave review on Instagram.
Check it out.
Nick took to Instagram Stories to share a video of himself watching the trailer for the movie on two TV screens and wrote, "Get ready! This movie is unreal and my wife @priyankachopra is outstanding at it. . " In the second part of the video, we saw him give the film a big thumbs up.
As for The White Tiger, the Ramin Bahrani movie starring Adarsh ​​Gourav, Priyanka Chopra and Rajkummar Rao is based on the book of the same name, winner of Aravind Adiga's Man Booker Prize.
Priyanka had said earlier of the White Tiger: "I am so excited to work with Ramin Bahrani and Netflix to bring Aravind Adiga's poignant story to life in theaters. When I read the book I was fascinated. from the perspective of the narrative. The story is The portrayal of raw ambition and how far one will go to achieve its goals is fascinating. I look forward to filming this in India this fall and also working with Rajkummar for the first time and the wonderful cast that Ramin puts together. "
The trailer description for the film reads: "The ambitious driver (Adarsh ​​Gourav) of a wealthy Indian couple (Priyanka Chopra Jonas and Rajkummar Rao) uses his wits and cunning to escape poverty and become an entrepreneur. The White Tiger is based on the successful novel by Aravind Adiga, directed and written for the screen by Ramin Bahrani and produced by Ava DuVernay, Priyanka Chopra Jonas and producer Mukul Deora. "
.