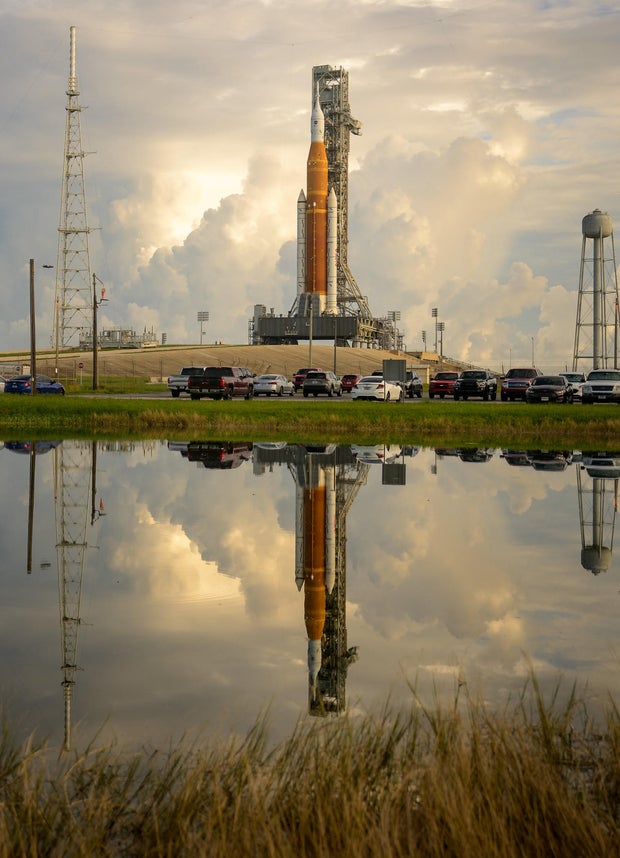 The countdown to the launch of NASA's Artemis moon rocket smoothly ticked into the last 24 hours on Friday as engineers prepared the giant booster for explosion saturday on a delayed test flight to launch an unmanned Orion crew capsule on a flight around the moon.
If all goes well, the engineers will begin pumping 750,000 gallons of cryogenic liquid oxygen and hydrogen fuel into the Space Launch System rocket on Saturday at 6 a.m. EDT, and set up a launch attempt at 2:17 p.m., opening a window of two o'clock.
Forecasters predicted a 60% chance of good weather, improving to 80% "go" by the end of the window. Storm clouds and rain swept over the spaceport Friday afternoon, but engineers hoped nature would be more cooperative on Saturday.
A launch attempt Monday was scrubbed when engineers were unable to confirm that all four RS-25 engines of the SLS rocket's first stage had cooled sufficiently by circulating liquid hydrogen to ensure a safe takeoff.
A detailed post-scrub data analysis confirmed that the engines were, in fact, receiving proper thermal conditioning, a requirement to avoid potential bearing damage when powerful turbo pumps start spinning for takeoff.
"We're on track for a 2:17 p.m. launch," said Jeremy Parsons, deputy manager of Artemis ground systems at Kennedy Space Center. "The team has done a really fantastic job of taking us out of launch attempt number one, fixing all the issues and getting us in a safe configuration to move on to tomorrow's launch attempt."
In addition to the engine cooling issue, the launch team also addressed a leaking seal in a hydrogen line that feeds propellant into the base of the SLS core stage and concluded that a quick-disconnect vent line also leaked briefly which is acceptable for flight as is.
Similarly, a post-scrub analysis showed that a crack in the sprayed-on core phase insulation, likely caused by thermal stress during refueling on Monday, posed no significant risk to the missile.
But engineers will pay close attention to the engine cooling procedure, known as a "kickstart bleed," which directs liquid hydrogen to the engines and their turbopumps to condition them for the low temperatures of cryogenic propellants — minus 423 degrees Fahrenheit for hydrogen.
While the data review found that all four RS-25 engines were adequately cooled on Monday, the kickstart bleed was moved up in Saturday's launch countdown to give more time for the hardware to cool down. Temperature data from a suspect sensor on engine 3 will be ignored and technicians will rely on readings from other sensors instead.
Assuming a timely launch, the top stage of the SLS rocket will propel the Orion capsule out of orbit about an hour and a half after takeoff, sending it into lunar orbit and into a distant orbit.
After extensive testing and checkout, the spacecraft will be guided back to Earth on October 11 for a rapid return and landing in the Pacific Ocean.
If the flight goes well, NASA will move forward with plans to launch four astronauts on a loop flight around the moon by 2024. That mission will be followed by the first Artemis astronaut to land in the 2025-26 timeframe.