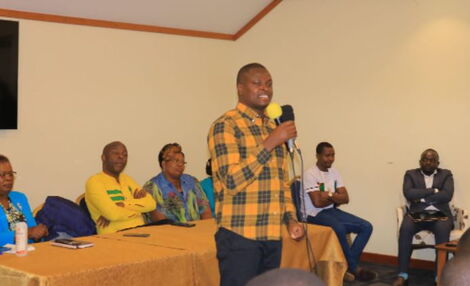 Kiharu MP, Ndindi Nyoro, is currently the largest individual shareholder of Kenya Power and Lighting Company, according to the latest filings from the Capital Markets Authority (CMA).
Nyoro tripled its shares from 9,116,800 shares at the end of June 2021 to 27,291,400 shares at the end of June 2022.
The move pushed Nyoro's stake in the company from 12th to third, behind government and banking stocks.
Kiharu MP Ndindi Nyoro meets with UDA politicians in Murang'a County on May 3, 2022.
Twitter
Ndindi Nyoros
According to data from the Nairobi Stock Exchange, a share of Kenya Power is being sold for Ksh1.60. The legislator, who will serve his last term as a Kiharu MP, revealed that his desire to invest in the state-owned company was fueled by his huge income and assets.
"The company is valued at less than 1 percent of its asset value. I buy KPLC stock because I know we can solve electricity problems when we're allowed to make decisions. It has a lot of sleeping capital that can be used to help more homes."
The MP noted that the value of the assets presents a great opportunity for any buyer who wants to impose themselves in the venture.
Currently, the National Treasury is the largest shareholder with a total of 978,492,034 at the end of June 2022. This was an increase of 850,339 from last year's evaluation.
Treasury is followed by Standard Chartered Residual nominees with a total stake of 32,518,589.
With a stake of 27.2 million, Nyoro defeated Naran Khimji Hirani and Virji Khimji Hirani, who led the individual shareholder category last year. Together they own 23,845,364 shares in KPLC.
The individual category list is rounded off by Shah, Mahendra Kumar Khetshi who got 11,024,900.
Nyoro, who is a close confidant of President-elect William Ruto, boasts of being the voice of the common mwananchi.
However, the wealth of the legislature makes him the richest politicians in the country.
Properties include Afrisec Telecoms, Investax Capital and Telesec Africa. The companies have a valuation totaling Ksh300 million with an annual turnover of Ksh50 million.
He has also expanded into other sectors, including construction, civil works, stockbroking, drilling, communications and marine engineering.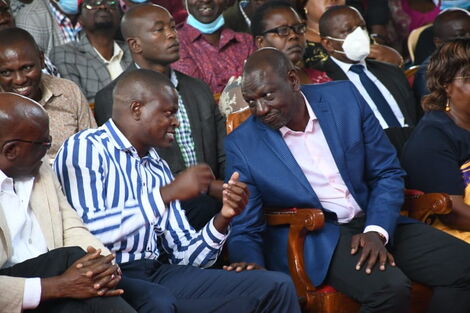 Vice President William Ruto (right) speaks with Kiharu MP Ndindi Nyoro at AIPCA Church in Kenol on Sunday, October 4, 2020.
DPPS