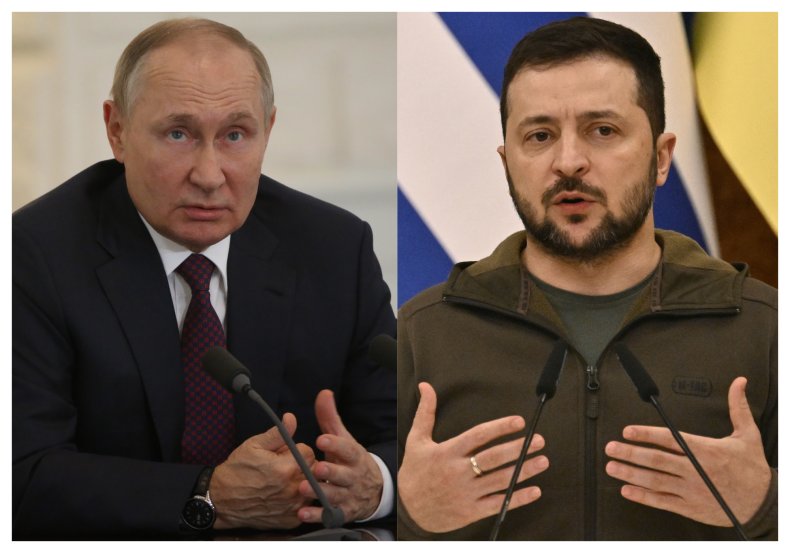 According to the director of the American Enterprise Institute's Critical Threats Project (CTP), negotiations with Russia are not a viable path to ending the war in Ukraine.
In an article published Thursday on the website of the Institute for the Study of War, CTP director Frederick Kagan argued that war negotiations would be futile as long as Russian President Vladimir Putin or a "putinist successor" retained control of Russia.
Kagan said Russia's invasion of Ukraine after an eight-year "ceasefire" that followed the 2014 annexation of Crimea showed that the Russian president "would not rest until he has conquered Kiev".
"The conflict is unsolvable as long as Putinism rules the Kremlin," Kagan wrote. "Negotiations will not change that reality. They can only create the conditions under which Putin or a Putinist successor will consider resuming the assault on Ukraine's independence."
Kagan suggested that the West consider the "dangers" of any terms Ukraine could offer Russia, as well as the likelihood of Russia accepting the terms, before "pressuring Ukraine to ask Russia for talks."
He noted that Russia has already rejected peace terms, including a return to pre-war borders, while Putin is unlikely to agree to terms that do not include Russia "annexing huge chunks of Ukrainian land."
Kagan said Ukraine's position is "not yet strong enough" to negotiate favorably. He pointed out that while counter-offensives have been successful in retaking some territory, Russia has still held "more than half" of Ukraine's land since the invasion began on February 24.
"Negotiations at this stage of the conflict will not yield additional Russian territorial concessions," he wrote. "Putin has announced the formal annexation to Russia of large parts of Ukraine over which he has no control…A ceasefire will now freeze the lines at best."
Kagan went on to say that the war would not end even if Ukraine relinquished the annexed territory to Russia, claiming that Putin invaded to destroy Ukraine's independence and ethnic identity rather than gain territory.
"[Putin] refuses to tolerate a government in Kiev that is not de facto under Russian control," Kagan wrote. "He has deeply entrenched these ideas in his ideology and will not remove them. Putin will never stop trying to regain control of Ukraine one way or another."
Rather than negotiate, Kagan advised Western allies to help Ukraine regain strategically important territory and "build up the Ukrainian military and economy to a point that deters future Russian invasions." He suggested that a "diplomatic agreement" with Russia would not be advisable until Ukraine gains the upper hand.
It may be some time before the Russian and Ukrainian leaders meet to negotiate an end to the war. Attempts to begin peace talks repeatedly met with roadblocks. This week Russia rejected Ukraine's terms, while also claiming that Ukraine was unwilling to negotiate.
Russian Foreign Minister Sergei Lavrov told reporters at the G20 summit in Bali that Ukraine "categorically refuses all negotiations and puts forward terms that are clearly unrealistic and inadequate," according to The Moscow Times.
Ukrainian President Volodymyr Zelensky proposed peace terms at the summit, including demands for Russia to return Ukrainian territory, withdraw troops and provide financial compensation for damage caused during the war.
News week has contacted the governments of Russia and Ukraine for comment.