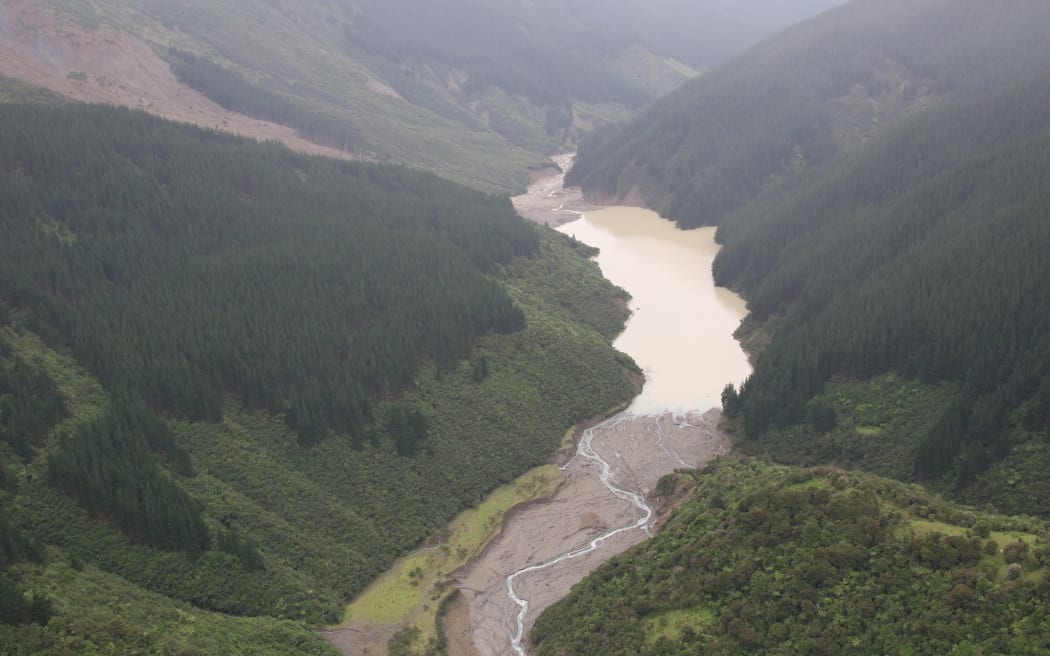 A new lake formed by a landslide in the Waiorongomai Valley is being closely monitored in anticipation of expected heavy rains, extending Tairāwhiti's state of emergency.
The lake was created by a large landslide on private land and is believed to be about 1 km long.
Rain caused by Cyclone Hale battered the region last week, causing flooding, slipping and power outages. The state of emergency in Tairāwhiti was due to be lifted at 10 p.m. tonight, but now remains in effect.
Gisborne Mayor Rehette Stoltz recounted it Report tomorrow scientists had until now only been able to map the lake by drone due to weather conditions.
She said at this stage they thought the lake was safe.
"However, they will be watching closely to see if tomorrow's and Thursday's rain changes or is a concern there, so our scientists are watching that more closely," she said.
Murry Cave, Gisborne District Council's chief scientist, said it remains to be determined whether it is more permanent or temporary.
Another lake formed at the same location in 2020, but it was much smaller and only lasted about a month, Cave said.
The council could get a better idea of ​​the lake's width and depth once tomorrow's storm passes, he said.
The key issue if the new lake failed was whether it failed quickly or slowly, he said.
But at this stage, the council has not identified a risk to nearby homes if it does.
"If it fails, the flood level that would penetrate would be lower than all the houses," Cave said.
He also did not recommend people visit the site.
"Anyone trying to get there in a vehicle is very likely to get stuck."
MetService also monitored a subtropical low towards the Eastern Cape, expected to bring more heavy rain tomorrow and Thursday, as well as strong easterly to southeasterly winds.
It has issued a severe weather warning for Gisborne from 1pm tomorrow to 1am Thursday.
Between 70 and 90 mm of rain was expected around Gisborne and north of Uawa.
There is also a chance of heavy rain for Gisborne and south of Uawa from 3pm tomorrow.
Stoltz said the council asked the community to be alert and have food supplies on hand for two to three days.
She warned people to stock up on supplies and move their animals to higher ground in anticipation of heavy rains.
"If you have any animals in the Hikuwai or Mangatokerau area, move them to higher ground, be prepared with supplies and keep up to date with the radio and news, to our Civil Defense Facebook page, as we will keep us informed, as MetService keeps us informed," she said.
Her warnings were echoed by Tairāwhiti Civil Defense group controller Ben Green, who said the road network was still fragile with multiple slips, breakdowns and breakdowns. He warned people to stay away from dangerous places.
"We have about 30 teams repairing roads and they are making good, steady progress.
"However, there have been reports of too many people driving by to take videos and photos of the cyclone's damage.
"This makes things more difficult for our crews and puts them and the drivers at risk if they get stuck and require assistance. Please postpone all unnecessary travel."
He added that structural inspections were being carried out on five bridges on local roads and that more rain was on the way.
Coromandel damage and beaches warning
Meanwhile, cracks in a major highway through the Coromandel Peninsula have forced the road to close.
Waka Kotahi found several cracks on the Kopu-Hikuai Highway after Cyclone Hale yesterday that it fears could get worse.
The emergency services are conducting an investigation today.
The highway is one of only three options for getting to and from the region, and the most direct route from Auckland to major holiday destinations such as Whangamata and Whitianga.
The cyclone also caused severe erosion on several beaches around the Coromandel, damaging dunes and public access roads.
Lifeguards warn that drifting sand has created new cracks in the water.
Chaz Gibbons-Campbell, Surf Lifesaving Manager for the Eastern Region, said so Morning report a much sand was taken from the beaches via Coromandel and Bay of Plenty.
"Essentially, the ocean has picked it up from the beach and dumped it back out just offshore, which has created some new sandbars, lots of new troughs, holes in the shore that run parallel to the beach. It's causing a lot more cracking and feeder currents, which can catch swimmers unexpectedly," he said.
"It's important that when people come to the beach, they take the time to assess those conditions. We still have patrols until Easter, and we're encouraging people to please swim between the flags and listen to the advice. " of the lifeguards."