Githunguri constituency MP Gathoni Wamuchomba revealed that she was behind the altercation between Nairobi Governor Johnson Sakaja and Vice President Rigathi Gachagua.
Speaking during an interview with Inoro TVWamuchomba stated that she reported Sakaja to the DP after he failed to listen to her.
Contrary to Sakaja's directive to ban matatus from the Central Business District, the legislator explained how she was forced to meet with the head of the Nairobi province on behalf of her people.
"I visited Sakaja in his office and we shared a cup of tea. I told him I didn't approve of him confining our matatus from CBD.
An archive photo of Nairobi Governor Johnson Sakaja
File
He needs to stop lying. He told me to give him two weeks and even informed his people in charge of the matatu stages that I had a court order to get the matatus back," she noted.
The MP stated that she had no choice but to report the matter to Gachagua.
"After I left the office, even the few matatus left on stage were ordered to leave.
Then I went to DP Gachagua because I saw that Sakaja was not responding to me. You saw how they attacked each other,' she said.
Wamuchomba added that she would no longer agree with Sakaja as he made decisions without thinking about the impact on the people.
She commented that she was willing to fight for her people in any way possible as Nairobi is a city where any Kenyan can do business.
"We will fight. If he has decided to remove Githunguri matatus from CBD, he must not replace it with others. Are we so foolish? Nairobi is a capital for everyone, it does not belong to him," she noted.
Following Sakaja's directive, Gachagua made it clear that he could not allow him to carry out his plan.
"We must respect all companies, and I want to tell all business people to keep working, the government of William Ruto and Rigathi Gachagua will not allow anyone to destroy a company," he announced.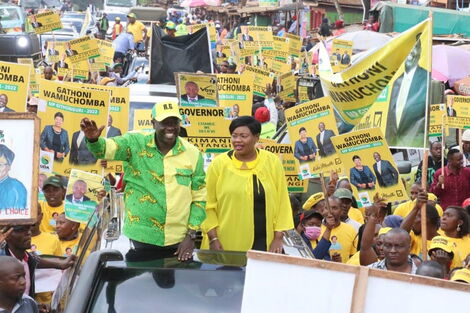 Vice President Rigathi Gachagua and Githunguri MP Gathoni Wamuchomba during the campaign ahead of the August 2022 general election
Facebook
Gathoni Wamuchomba
fight