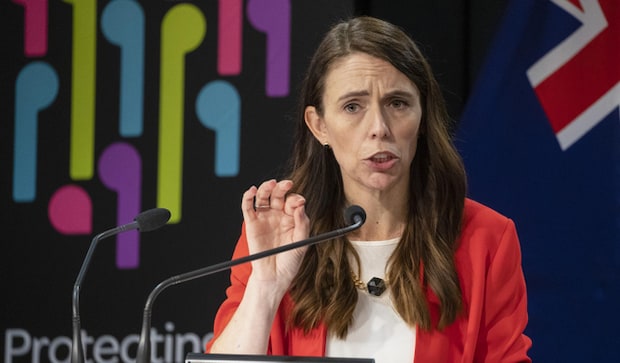 The litany of problems that Jacinda Ardern will leave for her successor also includes a cost-of-living crisis, unaffordable housing, rising crime and public discontent over the harsh Covid-19 measures. Image courtesy of TBEN
Wellington: New Zealand Prime Minister Jacinda Ardern announced on Thursday that she will step down within weeks amid plummeting popularity ratings and a raging economic crisis.
Jacinda Ardern, who also said she will not run in the general election scheduled for October, has seen her personal popularity hit an all-time low in recent weeks amid forecasts of a severe economic recession and the highest inflation in three decades .
The litany of problems that Jacinda Ardern will leave her successor also includes a crisis in the cost of living, unaffordable housing, rising crime and public discontent over the harsh Covid-19 measures.
The latest polls have predicted that the ruling Labor Party could lose the next election to an opposition alliance led by the National Party.
The latest polls in 2022 had predicted that the Labor Party would get about 33% of the mandate, while 38-39% would be handed to the centre-right National Party.
"I'm not leaving because it was hard. If it had been, I probably would have left for two months. I'm leaving because such a privileged role comes with responsibility, the responsibility of knowing when you're the right person to lead, and also when not to. I know what this job requires, and I know that I no longer have enough in the tank to do it justice. It's as simple as that," said Jacinda Ardern in the media.
The 42-year-old also admitted that she no longer had "enough in the tank".
"I'm human. We give as much as we can as long as we can and then it's time. And for me it's time. I just don't have enough in the tank for another four years," she said at a meeting of members from her Labor Party.
Jacinda Ardern said she would step down no later than February 7, less than three years after winning a landslide election to secure her second term.
Since that peak of "Jacindamania" in 2020, Ardern's government has struggled – its popularity has been hampered by skyrocketing inflation, a looming recession and a resurgent Conservative opposition.
"I believe leading a country is the most privileged job anyone could ever have, but also one of the most challenging," Ardern said.
"You can't and shouldn't do it unless you have a full tank, plus a little reserve for those unexpected challenges," she added.
"And we did so while responding to some of the greatest threats to our nation's health and economic well-being since World War II."
The covers of British Vogue and Time magazine featured the perception that Ardern was more popular abroad than at home.
She was a domestic force at her peak, but her government has been steadily slipping in the polls over the past year.
"It's about time. It's devastated the economy and food prices have skyrocketed," says Esther Hedges of Cambridge in New Zealand's North Island.
"I'm not happy with her and I don't know anyone who is," the 65-year-old added.
Christina Sayer, 38, said Ardern was "the best prime minister we've had".
"I like the type of person she is and she cares about people. I'm sorry to see her go."
The stress of the job was evident, with Ardern displaying a rare imbalance last month when she was unknowingly caught calling an opposition politician an "arrogant prick".
New Zealand actor and Hollywood veteran Sam Neill said Ardern was regularly targeted by "bullies" on social media.
"She deserved so much better," he said in an online statement.
New Zealand will choose its next prime minister in a general election on Oct. 14, Ardern announced.
She said she would continue to serve as an MP for the electorate until then.
Her departure leaves a void at the top of the Labor Party, with her deputy Grant Robertson quickly ruling out an inclination for leadership.
While recent polls indicate that a centre-right coalition is likely to win the election, Ardern said this was not the reason for her resignation.
"I'm not leaving because I don't think we can win the next election, but because I believe we can and will," she said.
"I'm leaving because such a privileged job comes with great responsibility. The responsibility of knowing when you are the right person to lead – and also when you are not."
Ardern was the world's second prime minister to give birth while in office, after Pakistan's Benazir Bhutto in 1990.
She said she is looking forward to spending more time with her daughter Neve, who starts school later this year, and finally marrying her partner, TV personality Clarke Gayford.
Australian Prime Minister Anthony Albanese led international tributes to Ardern, saying she had "showed the world how to lead with intellect and strength".
"She has shown that empathy and insight are powerful leadership qualities," Albanese said.
US Ambassador to New Zealand Tom Udall said Ardern was an "incredible world leader".
Read all Latest news, Trending news, Cricket news, Bollywood news,
India news and News here. Follow us on facebook, Twitter and Instagram.