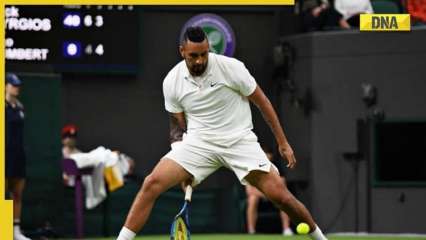 The Australian withstood the tough test against the Russian 7-6 (11), 3-6, 6-3, 6-2 and played his aggressive game to win after two hours and 53 minutes.
READ: Mohammad Rizwan injured during India-Pakistan match, to undergo MRI scan of right leg
The defending champion overcame a drought in the early break to push the set to a tie-break, leaving a 3/5 rally to earn three set points. On the third of those set points, at 8/7, Kyrgios hit a sly backhand that just cut the singles line.
In the second set, however, Kyrgios was unable to maintain his momentum by playing a mediocre opening service game. Medvedev took full advantage of Kyrgios' bad luck, the Australian missing a neutral backhand for a long time to give his opponent a chance to balance the game.
In the fourth set, the Australian earned another early break and was determined to hold on to it. Kyrgios broke his serve five times in his win, saving five of the eight breakpoints he encountered. "What a place to do it. A full house in New York!" ATP.com quoted Kyrgios as saying:
READ: I&B ministry calls on Wikipedia executives over Arshdeep Singh's page entry related to 'Khalistan'
"I want to go all out. Hopefully it's possible," said Kyrgios, whose win was his third win against a world number 1. "I just thought I was playing the right way. I came back incredibly today. and the fourth sets were just so free, I just had a lot of fun and embraced every moment on Ashe today. I'm really proud of that," said Kyrgios .
"Of course I felt like I was disrupting his rhythm a bit, making him uncomfortable behind the baseline, playing his tennis style. I think you should. But overall I was quite happy with my performance." he said.