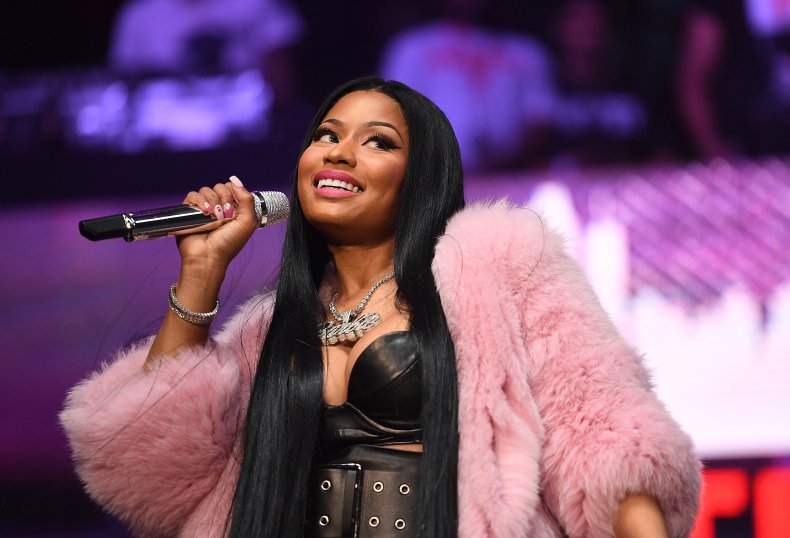 Nicki Minaj took to social media to ask her fans to help her rename her highly anticipated single "Freaky Girl."
Minaj teased the single on TikTok last month which became a trending sound with over 127,000 videos. The rapper's original video — now over 9.5 million views and 1.6 million likes — had many fans excited for the next single with a sample of Rick James' 1981 hit, "Super Freak." '. Days after the viral video was published, Minaj announced that the single will be released on August 12.
With over 3,000 comments, many fans are calling it "Anaconda 2.0," after her 2014 hit sampling Sir Mix-a-Lot's "Baby Got Back" and the new "Summer Song."
However, Minaj announced on Twitter that she had to change the song's name and asked fans to help come up with a new title.
News week contacted Minaj's record label, Republic Records, for comment.
Since tweeting, the artist has received more than 11,000 likes and many title recommendations. Minaj gave fans three different possible song titles: "He Want A Freaky Girl," "Super Freaky Girl," and "Nick James."
The third option received the most votes, while others loved "Super Freaky Girl."
Aside from the three options fans could vote for – which some fans didn't like – alternate titles were "FREAKNIC", "Freaky Barbie" and "FREAK"
Minaj started responding to some fans.
One asked, "WHAT ABOUT 'FREAKY GWORL'!?"
Minaj responded with, "Ooh I like how you guys are crazy smart."
"Why it can't be #FreakNic," another asked.
"Well, that didn't win my group chat poll, but we can throw it back into the mix. That was my idea, but they didn't love it," the rapper replied.
When a fan dropped the idea of ​​calling the song "Super Freaky Girl" and using the original idea of ​​"Freaky Girl", Minaj wrote that they had to change the name for legal reasons.
The "Do we have a problem?" singer released another poll between two top pictures: "FREAK" or "Super Freaky Girl."
Minaj has also been in the news for backtracking on claims she owes the IRS $173 million. When the Shade Room posted screenshots of an Instagram user by the name of @katemiller_7 who said she was an executive for Republic Records and an ex-assistant to Minaj and said the rapper reportedly owes millions to the IRS.
"Every day I learn that you guys are getting dumber and f**king dumber," Minaj said of the claims on her Instagram Live: "This is another fan base. They continue their plot to take me down because they recognizing that all the lies they've made so far never worked… It's now people who pay whole staff to beat Nicki I'm sure of real people who work for labels.
"Whatever you hear about me from now on, believe it. Believe it. Give it a spin, spin it, suck on it, spit on it. Believe it. Cause I don't fucking care."