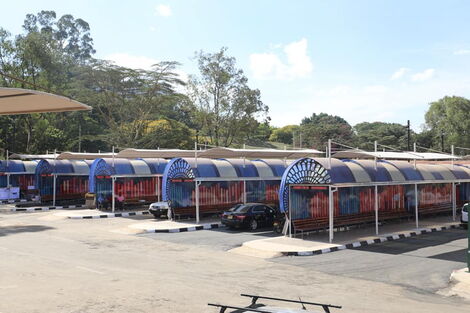 A committee formed by the Nairobi Metropolitan Service (NMS) has warned of a crop of crooks invading the newly constructed Greenpark terminus.
Speaking to the press on Thursday, April 8, the committee reported that the crooks had already started selling stage slots to matatus before the terminus officially opened.
He further warned that the terminus would be operated by NMS and that no individual sacco or matatu line would claim ownership of a section of the terminus.
"I would like to issue a warning to crooks who think they need to be included in all discussions about the matatu industry to make it legitimate. Let me warn the folks who have done the trick here, if you see any individuals, please report them to a police station.
Green Park Terminus at the Old Railways Club in Nairobi
Deposit
"They lied to many people and raised money while promising slots. No slots will be held here," said Stanley Mukuri.
Mukuri is one of the members of the committee formed to oversee the operations of the terminal.
Another member assured both matatu operators and commuters that the terminal will not experience congestion once it opens.
He explained that blocks had been erected at the stadiums and that all matatus would only have limited time at the pick-up points.
"There will be no congestion at all because matatu will only be allowed to take passengers when his turn comes. When he arrives at the stage, he will stop for a limited time.
"They won't be on stage until they reach full capacity. We cannot allow an extended wait, but each route will only have one stop. Hoots and boastful boasting will not be allowed. ", corroborated Carlving Calbright.
Towards the end of March, traders, formerly based around Lunar Park, accused Nairobi Metropolitan Services (NMS) of not considering the new business opportunities that arose due to the construction of the Greenpark Matatu Terminus.
NMS agents are said to have benefited from the official allocation of business premises in the Railway Club bus terminal.
President Uhuru Kenyatta and former Prime Minister Raila Odinga have already toured the terminus and given it an impeccable health check.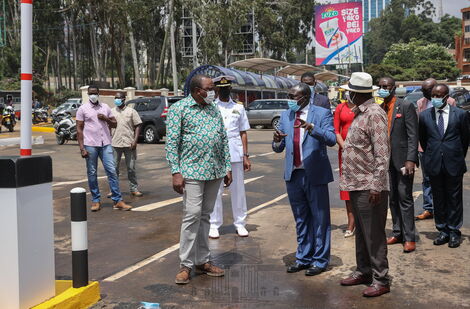 President Uhuru Kenyatta (in green shirt) and former Prime Minister Raila Odinga (in brown shirt) at Green Park Terminus on Thursday April 1, 2021.
PSCU