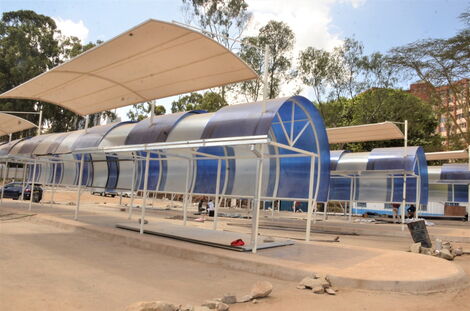 Nairobi Metropolitan Services (NMS) has pushed back the date for the relocation of the Matatus from the Central Business District (CBD) to the end of January 2021.
Plans were reportedly delayed due to a lack of funds to complete construction of the new bus terminals.
This comes after the move date was revised several times in December and early January.
The Green Park terminus under construction at the Railroad Club along Haile Selassie Avenue.
Twitter
The NMS initially said the relocation plan would be implemented in stages to avoid a transport crisis.
The matatus is expected to relocate to the Green Park terminus located at the Railways Club along Haile Selassie Avenue as well as Desai and Park Roads.
Reports say the Green Park terminus, which is supposed to accommodate at least 110 matatus, is nearing completion, but The owners of matatu have vowed not to adhere to the CBD ban.
The president of the National Association of Matatu Homeowners, John Muthonga, said the NMS had ulterior motives to move the matatus.
"We will not be moved out of this city. We have rights like other TBEN. We want the exercise to be done in an inclusive way where our views are well represented," Muthonga noted.
NMS director of transport, roads and public works, Michael Ochieng, however, rejected the requests.
"We are in talks with the real stakeholders, those who are complaining are people who do not even own vehicles. All serious investors fully support our plan," Ochieng said.
The NMS has been praised for implementing a number of projects since the entity was established by President Uhuru Kenyatta.
Among the projects is the ongoing construction of the terminals which aims to decongest traffic in the CBD.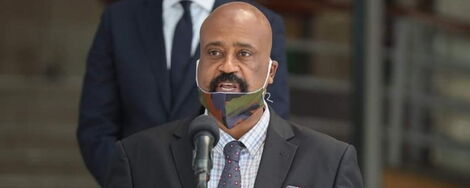 Nairobi Metropolitan Services boss Mohamed Badi addresses President Uhuru Kenyatta on June 30, 2020 at Harambee House Nairobi while releasing a report on his first 100 days in office
PSCU