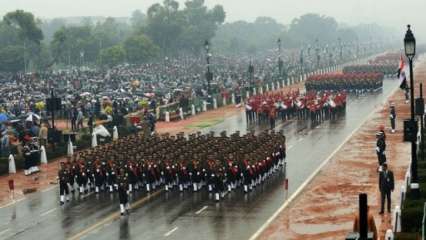 Due to the COVID pandemic, no foreign guests will be present at the Republic of India Parade, which was one of the highlights of the annual event celebrating the country's diversity in the heart of Delhi.
Announcing this development, Foreign Ministry spokesman Anurag Srivastava said: "Due to the global covid 19 situation, it has been decided that this year there will be no head of State or foreign government as the main guest at our Republic Day. Event"
India had invited British Prime Minister Boris Johnson to be the guest of the Republic Day, who had accepted and confirmed his arrival. But earlier this month, he informed the Indian Prime Minister of his inability to come due to the new strain of the covid virus that had emerged in the UK.
This is the 4th time in history that no foreign guest will be present on Republic Day. The last time this happened was in 1966, and before that in 1953 and 1952.
The choice of the Republic Day guest highlights New Delhi's proximity to the country. Indian Prime Minister Modi had invited US President Barack Obama as the main guest in 2015, which sent the message of the growing ties between Delhi and Washington. In 2018, all members of the ASEAN grouping were invited, making history as never before have 10 heads of government / states present at the parade together.
Johnson had ordered England on January 4 a new national lockdown to contain an increase in the number of COVID-19 cases that threatened to overwhelm parts of the health system before a vaccination program reached critical mass.
The announcement came just hours after the government hailed Britain's success in becoming the first country to start rolling out the vaccine developed by the University of Oxford and AstraZeneca against COVID-19.
Johnson said a new, more contagious variant of the coronavirus first identified in the UK and now in many other countries is spreading at high speed and immediate action is needed to slow it down.
"As I speak to you this evening, our hospitals are under more pressure from COVID than ever since the start of the pandemic," Johnson said in a nationwide televised address.
"With most countries already under extreme measures, it is clear that we must do more together to bring this new variant under control," he said.
"So we have to engage in a nationwide lockdown, which is hard enough to contain this variant. It means the government is asking you once again to stay home."
Non-essential stores and hotels are expected to remain closed, while elementary and secondary schools would close from Tuesday for all students except vulnerable children and those whose parents are key workers.
(With contributions from Reuters)
.