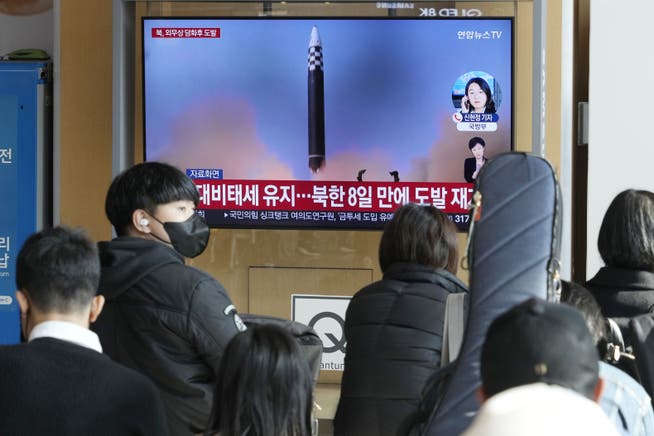 missile test

North Korea fires missile again – emergency meeting at Apec summit
After threats against the US and its Asian allies, North Korea continues to demonstrate military strength. With another missile test, Pyongyang is sending a clear signal to Washington – and is pushing the agenda at a top international meeting.
North Korea has again fired a nuclear-capable missile that could theoretically reach US territory, South Korea said. The repeated demonstration of power by the country ruled by ruler Kim Jong Un overshadowed the start of the Asia-Pacific summit in Bangkok on Friday, where the USA, South Korea and other countries wanted to meet for an emergency meeting on the sidelines of the missile test. Intercontinental ballistic missiles (ICBM) are considered the most important means of delivery of nuclear weapons.
The governments in Seoul and Tokyo accused the largely isolated neighboring country of serious provocation on Friday. The National Security Council of the White House in Washington condemned the test of a "long-range ballistic missile" and at the same time called on Pyongyang to engage in serious negotiations. "The door on diplomacy is not closed, but Pyongyang must immediately halt its destabilizing actions and instead decide on diplomatic engagement," said spokeswoman Adrienne Watson.
After launching in the region around the capital Pyongyang, the rocket flew about 1,000 kilometers east towards the sea at an altitude of up to 6,100 kilometers, the South Korean general staff said. The missile probably fell into the sea within Japan's exclusive economic zone – a 200-mile zone offshore, according to Japanese Prime Minister Fumio Kishida.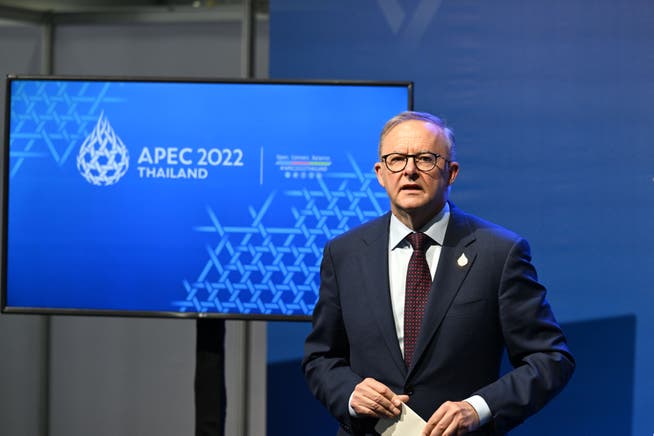 Kishida, who was in Bangkok for the APEC summit, strongly condemned the renewed missile test. North Korea's provocations are "unacceptable". South Korean President Yoon Suk Yeol has ordered his country's joint defense with the United States to be strengthened, according to his office. Yoon also called for a reaction from the UN Security Council.
UN resolutions prohibit the self-declared nuclear power North Korea from testing ballistic missiles of any range, which, depending on the design, can be equipped with a nuclear warhead. ICBMs include missiles with a range of at least 5500 kilometers. According to experts, it is not unusual for North Korea to deliberately choose a steep trajectory for tests of long-range military missiles.
North Korea is sending a clear signal to the US
North Korea's development of strategic missiles with a range of thousands of kilometers is aimed particularly at the USA, which Pyongyang accuses of hostile policies. According to observers, with the latest missile test, North Korea wants to send a clear signal to the United States in addition to pursuing weapons-related goals.
Foreign Minister Choe Son Hui on Thursday threatened "stronger military counteractions" against US plans to increase its military presence in the region. Choe alluded to US President Joe Biden's meeting with Kishida and Yoon last Sunday. At the three-way meeting on the sidelines of the Asean summit in Cambodia, Biden emphasized his country's determination to strengthen "extended deterrence". By this, the US understands the "full range" of its military capabilities to defend South Korea and Japan – including nuclear weapons.
South Korea's military assumes that North Korea last shot down an ICBM in early November. At that time, problems were said to have arisen after the start phase. As on November 3, North Korea apparently fired its largest Hwasong-17 ICBM this time, South Korea's TBEN reported, citing a source in the defense ministry.
Tensions on the Korean Peninsula have recently increased significantly. Since the beginning of the year, there have already been more than 50 North Korean missile tests – in early November alone, South Korea's military recorded more than 25. Washington and Seoul assume that North Korea is also ready to undertake a new nuclear test. Experts fear that tensions will continue to escalate and that even the slightest miscalculation on either side could have the most dangerous consequences. (dpa)