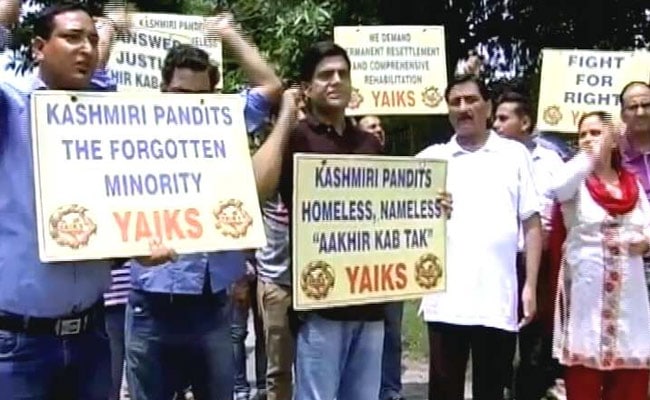 Srinagar:
Every Hindu living in the Kashmir Valley is not a Kashmir pundit and cannot benefit from special employment programs for members of that specific community, the High Court of Jammu and Kashmir said in a recent judgment .
Rejecting a plea to include certain Hindu and Sikh groups in the prime minister's job offer for Kashmir pundits, the court said the targeted group is an "identifiable community separately from other Hindus residing in the valley like the Rajputs, Brahmins other than Kashmiri pundits, Listed Castes, Listed tribes and many more, "Judge Sanjeev Kumar said in his judgment on Tuesday.
The petitioners argued that other Hindu groups, in addition to the Sikh community, had also suffered greatly and should be considered to enjoy benefits similar to those accorded to non-migrant Kashmiri pandits.
The court said, however, that the argument that they could be lumped together as Kashmiri pundits was "absurd and could not be accepted."
"It is undeniable that in common parlance, Kashmiri Pandit is a community of Kashmiri speaking Brahmins living in the valley for generations and distinctly identifying themselves by their dress, customs and traditions," said the judge.
"It is therefore difficult to accept the assertion of the learned counsel of the applicants who are mostly Kshatriyas, Rajputs, scheduled castes, non-Kashmiri Brahmins (that they) should be treated as Kashmir pundits and admitted to the benefits of the Minister's revised First Package for the return and reintegration of Kashmiri migrants. "
The only question that remains to be determined is whether the applicants, who are admittedly not Kashmir pundits but belong to other Hindu castes, can be assimilated to the definition of "Kashmir pundits", according to the judgment.
In 2009, then Prime Minister Manmohan Singh deployed a Prime Minister's "package" aimed at facilitating the return and reintegration into the Kashmir Valley of Kashmiri migrants.
Under this program, 6,000 government jobs have been advertised for Pandit migrants. While 4,000 positions have already been filled, 2,000 were recently advertised by the Jammu and Kashmir Service Selection Committee.
As part of a revised package announced last year, the government has reserved jobs for pundits who have not migrated from Kashmir. These candidates are required to produce "non-migration" certificates issued by the deputy commissioners concerned.
The deputy commissioners, however, refused to issue such certificates to non-Kashmiri Hindu pandits.
The aggrieved groups then filed a petition in the High Court to seek inclusion in the package, claiming that it cannot be limited to a single group of beneficiaries.
The petitioners said the term "Kashmiri pundits," used in ORS 425 of 2017, was broad enough to include all non-migrant communities and Hindu castes residing in the Kashmir valley and "also suffered as pundits of non-migrant Kashmir ".
.