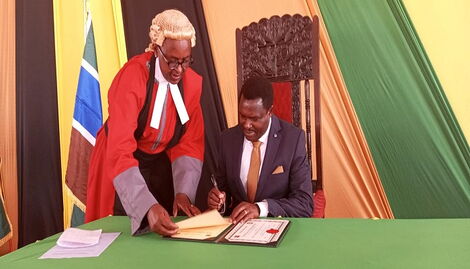 NTV Senior political journalist Kennedy Murithi Bundi has been appointed to serve in the office of Tharaka Nithi Governor Muthomi Njuki.
In a statement dated Monday, Nov. 14, Murithi has been appointed to serve as a political adviser during the governor's second term in office.
Speak with TBEN.co.ke on the phone, the journalist expressed his shock, noting that he only learned of his appointment after the list was made public.
"I just saw the press release just like you. That is my name. I have received the notification of my appointment. I thank the Governor for this," said the journalist.
Governor of Tharaka Nithi County Muthomi Njuki signs official documents after taking oath in Tharaka Nithi on August 25, 2022
TBEN.co.ke
Murithi was appointed as economic adviser along with Gedion Gitonga Thuranira, David John Mbaya (prosecutor general candidate), Alexander Micheni Muratha (acting secretary of the province) and Stephen Nthiga Mitugo (acting director of Human Resources).
"I have appointed the following officials to enable me to serve the honorable citizens of Tharaka Nithi," Muthomi Njuki announced in a statement.
In his new capacity, the journalist will be tasked with providing political leadership to the governor and monitoring political trends both in the provincial and national government.
At the time of his appointment, Murithi was serving as a senior political reporter at NTV – a position he has held since 2016 after his promotion from a QTV news reporter.
This is the second time that the Masinde Muliro University Graduate has partnered with the governor of Tharaka Nithi after serving as communications director of the province in 2017.
However, he only held the position for a short period before returning to NTV.
Individual appointments
The governor also nominated 16 individuals to serve in the position of County Chief Officers, including Aggrey Karani Riungu for Medical Services and ICT, Benson Kimathi Njeru (Energy and Industry) and Ignatius Mugambi Kigwari (Revenue and Resource Mobilization).
Other appointees included Peter Kimathi Njeru (Agriculture, Livestock and Fisheries), Kelly Karimi Rwigi (Gender, Children and Social Services) and James Mbae Karuku (Land, Spatial Planning and Housing).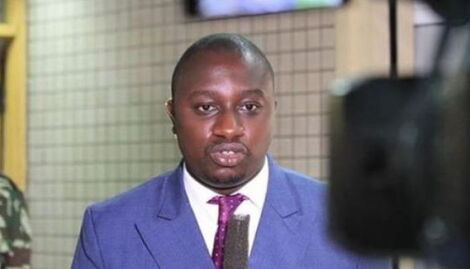 NTV Senior political journalist Kennedy Murithi Bundi.
File