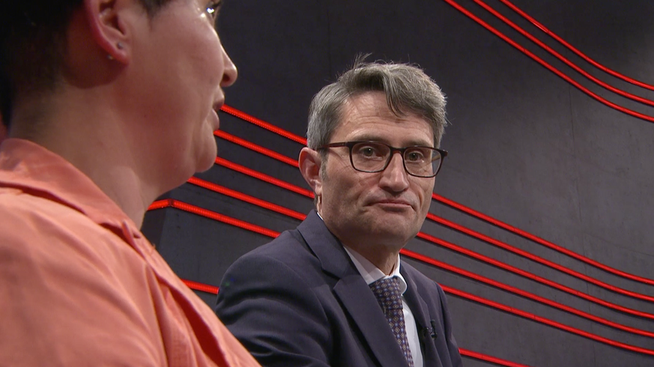 SRF «Arena»

Nurse gas against Lukas Engelberger
Pflexit? The politicians discuss the implementation of the care initiative in the SRF "Arena". But only the nurse knows how it really is. She provides the urgent reality check.
What about the implementation of the nursing initiative? Pflexit? That's what the "Arena" was all about on Friday.
It is a topic that is still moving after the pandemic. The moderator Sandro Brotz said at the beginning that they had rarely received so many messages before a broadcast.
Thanks to all nurses who wrote to me – here and on many other channels. The message got through – and that's what we had/plan to do: name problems, look for solutions. tomorrow in the #SRFArena from 10.25 p.m @SRF 1.

— Sandro Brotz (@SandroBrotz) January 12, 2023
No other job was advertised more often last year than nursing. There are currently up to 15,000 positions to be filled in nursing.
As of now, 186,000 people in Switzerland are (still) working in care. By 2029, however, 20,000 people with training and 79,000 people without training are likely to be missing. 40 percent of people – 500 per month – give up their job in care early because it is too demanding.
Claudia Soltermann knows this burden. She is a qualified expert in emergency care and has worked in hospitals in Aarau, Baden, Lucerne and Einsiedeln.
Although she is still active in nursing, she had to reduce her workload to 70 percent. She says: "It also means that I can pay less into the pension fund. But I accept that. Because I don't want to work 120 percent anymore."
people run away
Soltermann takes care of the showdowns on the show and thus outshines everyone else present.
Have discussed:
Martina BircherNational Councilor SVP
Eric EttlinCouncil of States center
Yvonne RibiManaging Director Swiss Professional Association of Nursing Women and Nursing Specialists SBK
Catherine Prelicz-HuberNational Councilor Greens
Luke EngelbergerPresident Health Directors Conference GDK
Claudia SoltermannEmergency Care Specialist
Soltermann says she started in nursing in 1997 and it was already said that at some point there would be a bottleneck, more staff would have to be recruited and existing staff treated better. "1997 was a long time ago. In my opinion, very little has changed since then. Better working conditions are needed."
Lukas Engelberger, President of the GDK, sees a demographic problem in this. Healthcare competes with other industries. There is also a lack of skilled workers in other areas because the baby boomers are now retiring.
It is important to bring the inner motivation to the outside. He says to Soltermann: "The way you shine when you talk about your job is an important element."
Soltermann remains skeptical: "People always compare us to other industries. But the cantons are responsible for the basic health care of society – but not for the survival of a restaurant. We always hear: It takes time. As an emergency expert, I have a hard time with this: we work, bang, bang, bang. I expect politicians to be just as quick. Because people are running away from us!"
Engelberger doesn't seem to want to believe that: "We have to win these people back! It's cooler to work on an emergency than in the office."
She: "But also more demanding."
He: "But definitely also more enriching."
You: «Enriching? We're being spat on and knocked off!"
Only three cantons ready
On November 28, 2021, the care initiative was accepted by the people with 61 percent. All cantons have accepted the package, with the exception of Appenzell Innerrhoden. The Federal Council has proposed two packages for implementation.
The first package provides for the federal government and the cantons to invest one billion euros in the training of qualified nursing professionals over a period of eight years. The future nurses should also receive direct money in the form of training contributions. Parliament has already approved the package. This is expected to come into force in 2024.
Yvonne Ribi is the managing director of the SBK and is concerned that the cantons will not be ready when the care initiative is implemented in mid-2024. She calls for immediate action. Ribi is the most demanding of the evening in the "Arena" together with Soltermann.
According to an expert report commissioned by the Federal Office of Public Health FOPH, only three cantons (Berne, Ticino, Valais) of the 24 surveyed currently have the necessary framework conditions or have done sufficient preparatory work to successfully implement the care initiative. 13 cantons only partially meet the federal criteria and eight cantons currently do not meet them at all.
Councilor of States Erich Ettlin defends himself against the criticism of the cantons: "The difficulties for the cantons – and you have to protect them – is that they have to partially adapt the legislation. But that's the challenge now: that it happens as quickly as possible."
Engelberger doesn't want to leave it up to the cantons either: "We're talking about the requirements of a law that doesn't even apply yet. The referendum period is still running. Some of these are very formal requirements. You can trust that the cantons will take the timetable seriously and stick to it." He says that with great confidence.
improve working conditions
The second package is intended to improve the working conditions of nursing staff, for example with reliable duty rosters and appropriate remuneration. The FOPH is currently working with other federal offices on proposals for this second package.
Engelberger emphasizes that every measure from the second package will fail if it does not succeed in getting people into the profession. The second builds on the first package. You can only make the roster more reliable and shorten the work assignments only if there are more people. "Everything is absolutely dependent on the success of the training offensive."
Before that, Engelberger spoke about the labor law. He says: "The labor law is the same for everyone in this country. I wouldn't think it would be right if there were a special labor law for the healthcare sector."
Soltermann sees it differently and thus ensures the second showdown on the show: "The labor law does not apply to us in the hospitals at all. Sometimes I work 60-hour weeks, when only 50 would actually be allowed. Sometimes I've worked double shifts, from 7 a.m. in the morning to 11:30 p.m. at night. All not allowed. And that without a break. This does not comply with any labor law. That's why we need labor laws that protect us!"
Soltermann compares – once again – the regulations with reality. And wins.