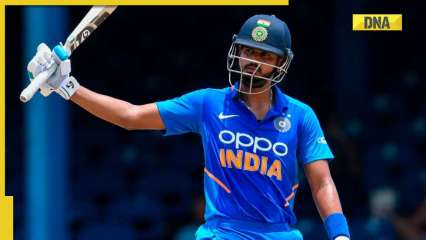 When Shreyas Iyer came onto the pitch to bat for India at number 3 in the first ODI against New Zealand, fans noticed a large black colored mark on his arm. The black spot can be clearly seen on the forearm of the top-order batter when he is in position to face deliveries. Several social media users have also wondered what the patch is all about.
What is the black spot on Shreyas Iyer's arm?

The patch is a sticker high-tech fitness monitoring tool. Iyer has been seen wearing a similar patch before while playing for his IPL team Kolkata Knight Riders. The patch also had a bold K.
The fitness gadget is reportedly made by a company called Ultrahuman. Iyer had partnered with the brand earlier this year. The gadget is called M1. What it does is assess the wearer's blood glucose in real time. The data can be viewed via a special iPhone app. The patch also monitors other biomarkers to give a person accurate insights about their condition.
The content of the patch is a biosensor to monitor the parameters and share insights in the app it is paired with. It helps to keep track of a person's energy level and gives important knowledge that can then be used to adjust the exercise, eating and sleeping routine.
The cost of the product comes through a subscription, according to reports. There are three plans a customer can choose from, these are 4 week plans, 12 week plan or 52 week (1 year) plan. The cost ranges from Rs 4,999 for the smallest to Rs 1,04,999 for the annual plan.
Meanwhile, India got off to a great start in the first ODI match against New Zealand with openers Shikhar Dhawan and Shubhman Gill scoring half-centuries. India lost Rishabh Pant and Suryakumar Yadav cheaply but Shreyas Iyer anchored the innings from the other side.
Follow the IND vs NZ 1st ODI here: India vs New Zealand Live Updates: Watch Latest Match Score, Comment Here