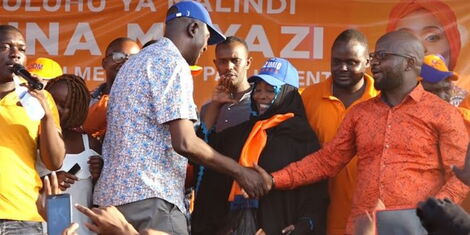 Kilifi Governor Gideon Mung'aro was dealt a blow on Friday, November 18, after the Supreme Court rejected a request to drop a petition against his election.
Lady Justice Anne Adwera Onginjo ruled that the Supreme Court had jurisdiction to hear the case, shooting down an earlier submission that argued the case was beyond the reach of the court.
The applicants in the case argued that the petition related to the presidential election, the decision of which is reserved for the Supreme Court.
However, the judge ruled that the case had other concrete grounds on which the request was based and that as such the petitioners had the right to be heard.
Former Devolitoon CAS Gideon Mung'aro greets his main rival Kilifi speaker Jimmy Kahindi. 21.03.2022.
Twitter
Gideon Mung'aro
"This Court considers that the mere mention of the presidential election in the negligible part of the petition cannot be grounds for striking out the petition which meets the requirements of Rule 8(1) of the Electoral, Parliamentary and Provincial Elections Petition Rules ."
"Because of that consideration, I find that the application of the first and second defendants dated October 4, 2022 has no merit and that it is rejected and costs will be at stake," Lady Justice Onginjo ruled.
However, the petitioners faced a setback in their case after the court rejected their request to include celebrity lawyer George Kithi, Public Service Cabinet Secretary Aisha Jumwa Karisa Katana and Michael Tinga Jefwa as interested parties in the case deleted.
"This Court therefore finds that the interested parties cannot be supported in the application for reasons that they have been wrongly imposed by the petitioners, and secondly, the mention of the first interested party in paragraphs 57, 103, 106 and 155 is not advised and therefore the court finds that no prejudice has been shown that the first interested party will suffer from non-joining. So the application to remove the interested parties and especially the first interested party is allowed with costs in the case," she added.
The three petitioners, Justine Ringa Chirume, Justin Charo Baya and Salim Chai Tsui, filed a petition against the IEBC, Kilifi County Returning Officer Hussein Gurre, Governor Mung'aro and his deputy Flora Chibule.
A request from the petitioners for control of the ballot boxes was also granted, ordering IEBC to secure the ballot boxes in this matter.
They claim in the petition that Munga'ro, who won by 143,773 votes, was not legally elected because the elections were marred by irregularities and the results did not match the wishes of the people.
Aisha Jumwa, George Kithi who finished second and third in the August general election with 65,893 and 64,321 votes respectively, and Michael Tinga have been listed as interested parties.
The case will be heard on Monday, November 21, 2022.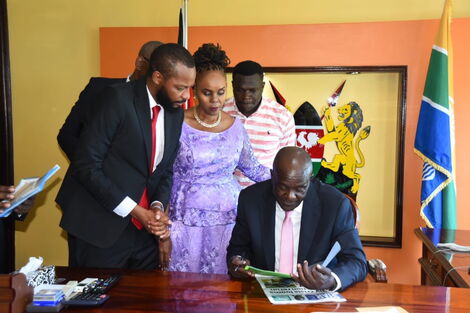 Governor Gideon Mung'aro and his deputy Flora Chibule.
Twitter
Gideon Mung'aro
to arrest