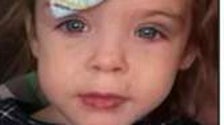 CYRIL, Oklahoma (TBEN) — An effort to locate a missing 4-year-old Oklahoma girl, who authorities believe was killed by a janitor, has turned into a search for her remains, officials said Monday.
The search for Athena Brownfield, who has been missing since last week, is now being considered a "salvage operation," the Oklahoma State Bureau of Investigation said in a press release.
Authorities determined that Athena was missing after a postman found her 5-year-old sister alone on January 10 outside the home of the couple who had been caring for the sisters in Cyril, a town of about 800 people about 110 kilometers away. (110 kilometers) southwest of Oklahoma City.
Ivon Adams, 36, was arrested Thursday in Phoenix and awaits extradition to Oklahoma. According to the OSBI, he is charged with first-degree murder and child neglect.
Alysia Adams, 31, was arrested in Oklahoma and faces two counts of child neglect. The OSBI said she is related to the sisters.
Prison records also do not list lawyers to comment on the charges against them.
Areas of Caddo County, where Cyril is located, are being searched for Athena's remains, the OSBI said Monday. The agency asked the public not to search for Athena's remains, saying people could potentially trespass or potentially contaminate evidence.
The sisters' biological parents have been interviewed by authorities and are cooperating with the investigation, OSBI said. Athena's sister was taken into protective custody.