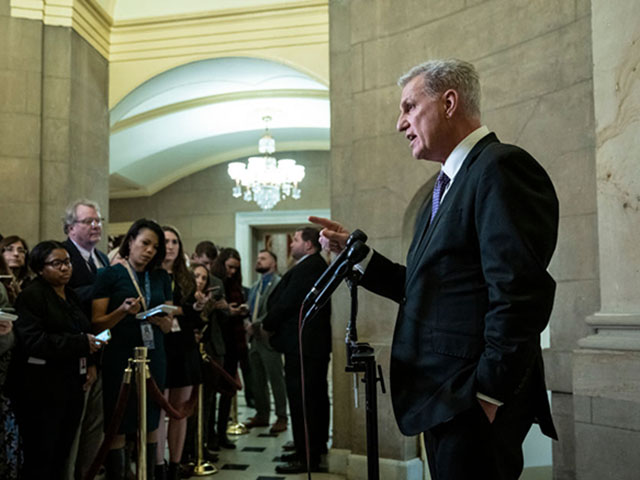 Rep. Ilhan Omar (D-MN) condemned the House Republicans' plan to potentially vote to remove her from the Foreign Affairs Committee, saying on Wednesday the move is "reserved only for the most egregious misdeeds."
Omar's comments came at a news conference just after Republicans ran through several examples of Omar's past controversial comments that morning as she considered voting to remove her from committee, TBEN reported.
The outlet noted that moderate Representative Don Bacon (R-NE), who had been on the fence about the committee's removal, was persuaded to vote for it at the meeting.
Speaker Kevin McCarthy (R-CA) first conveyed his plan to hold a vote on Omar's commission job more than a year ago in an interview with Breitbart News.
"Ilhan Omar shouldn't be serving in the State Department," McCarthy said at the time. "This is a new level of what the Democrats have done."
The House voted largely partisan to remove Representatives Marjorie Taylor Greene (R-GA) and Paul Gosar (R-AZ) from their committee assignments in 2021 over their inflammatory rhetoric and social media posts. That same year, then-speaker Nancy Pelosi (D-CA) rejected two of McCarthy's picks for the January 6 select committee.
A housewide vote to remove Omar from her seat on the Foreign Affairs Committee is expected soon, but whether McCarthy has enough votes to pass the measure remains up in the air. Representatives Nancy Mace (R-SC) and Victoria Spartz (R-IN) have stated they will not support it, meaning McCarthy can only afford a few more defections before the measure fails, assuming Democrats vote unanimously against to vote.
Republicans' backlash against Omar as a member of the committee comes after the Minnesota Democrat, who has already served two terms, gained a reputation when he entered the congressional scene for promoting anti-Semitic tropes, such as the claim that Israel had "hypnotized the world" and that congressional support for Israel is "all about the Benjamins."
Omar apologized after taking the comments, but continued to take a vocally anti-Israel stance.
In 2019, Omar introduced a resolution supporting the anti-Israel "boycott, divestment, sanctions" (BDS) movement. In 2021, she added "atrocities" allegedly committed by the US and Israel to those committed by the Taliban and Hamas. Equating the US and its Middle East ally with the two terrorist groups led to condemnation from its own party leadership and resulted in Omar again apologizing. Later in 2021, Omar was one of only nine House members to vote against a $1 billion investment in Israel's defense system.
Omar argued at the press conference on Wednesday: "Policy differences are alone and should not be a reason to remove someone from a committee."
"In modern American history, the penalty for stripping a member of Congress from his committee duties is reserved only for the most egregious misdeeds," said Omar, pointing to "those convicted or charged with corruption, those who have pleaded guilty made to bribery, sexual misconduct." , incitement to violence or other serious allegations."
When asked by a reporter at the press conference if Omar would again defend her past actions, as she has before, Omar replied, "I've dealt with it." I have apologised. It's been two and a half trimesters," though neither Omar nor the reporter referred to specific actions.