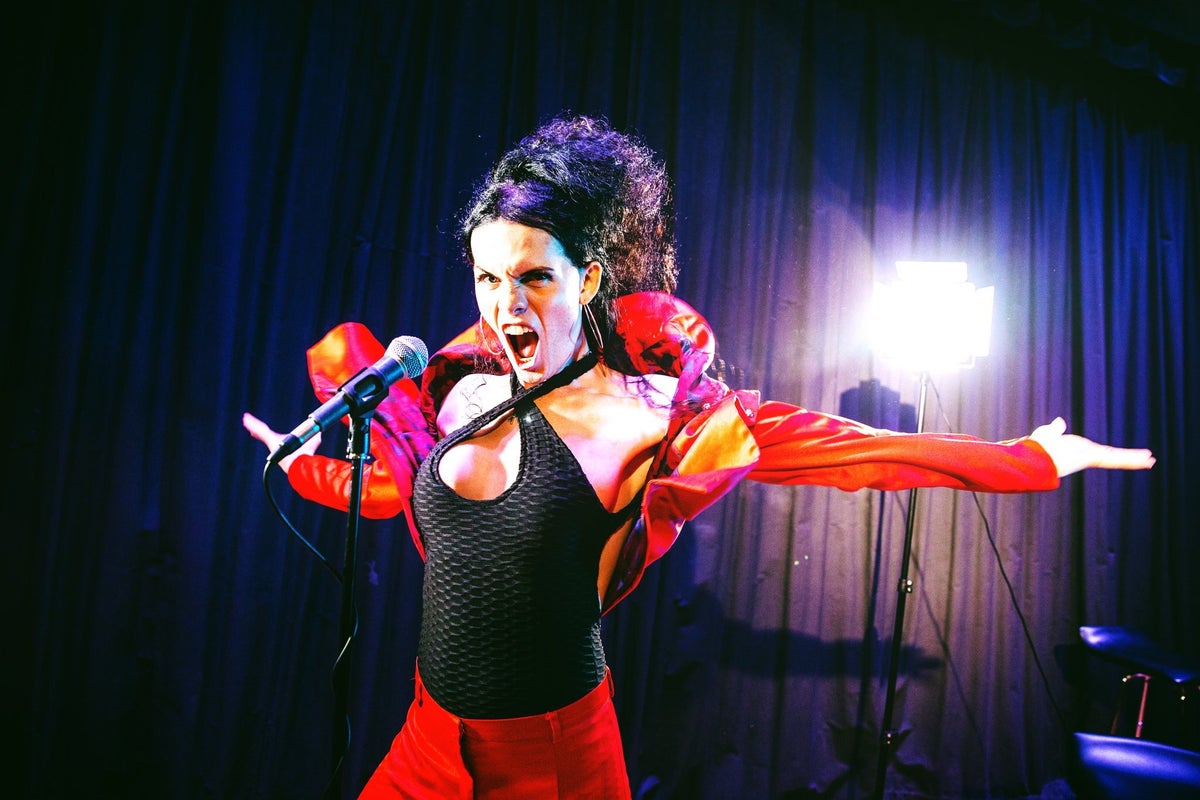 "I can't stand all those female comedians these days. They just talk about their penises." Comedy allows us to speak the truth against power. Not that "truth" is necessarily a language that understands power.
How can a working-class transgender comic rise above the right-wing caterpillars and put on a happy face as the UK government rolls back its human rights in real time? These are the questions that run through my mind as I touch the smooth cobbled streets of Edinburgh Fringe.
It behooves the Tories to demonize us. We stand out, there aren't many of us, and we're a colorful distraction. But it's probably not as Machiavellian as it seems. Like most things, the trans community's recent tank in polls has been based on fear. Likewise, we tend to exaggerate the size of nearby spiders in our minds. "What if they get in our mouths and lay their eggs?". Note: this also applies to spiders.
Laughter is a reflex designed to rid the body of excessive fear. It's why trans comics are doing so well right out of the gate – because you guys are so ready to pop all we need to do is give a little jab.
The fastest way to disprove Liz Truss' paranoid fantasies about transgender people is to come and watch one of us do stand-up comedy. Come and sit six feet from our surgically altered bodies as we wax lyrical about the same shit you deal with every day. Feel your gut muscles surge with a spasmodic exhalation. Feel the cognitive dissonance flood your brain as your subconscious is forced to balance the impossible equation: How could such a 'mentally ill deviant' provoke such a warm human response in my personal belly space?
Fortunately, it is still legal for us to express ourselves. Among all the corporate crap and reptilian property owners, the heart of the Edinburgh Fringe still beats with the feeling that "this is where you come to express yourself". And so we go to Edinburgh. My advice? Go see a transgender comedian before they kill us all.
"Why go to a transgender comedian?" A hack would give you a joke answer. As a professional…I'll give you two jokes and one serious one for balance…
As a pre-op trans woman with a boob job, I possess a disproportionate number of hilarious appendages. Most of us have experienced BOTH bathrooms in our lifetime. That's twice the toilet humor for your money. And as much as the British government would like you to believe otherwise, transgender people are incredibly recognizable. Who hasn't looked in the mirror and seen a stranger staring back? "I can't be, I'm not that old." Or, "I can't be, I'm not a tie-wearing person." Or: "I can't be, I look so sad."
If you're in the Fringe this year and want to see a transgender comedian, listen up. Like our comic book namesakes – The X-Men – we walk among you. We are everywhere; each of us is more unique than the last. There's the hilarious Jen Ives (Peak Trans, 7pm, Gilded Balloon Patter Hoose), rising star and Graham Linehan's ongoing obsession.
There's OG's (and fellow Muso's) British transcomic Andrew O'Neill (We Are Not In the Least Afraid of Ruins; We Carry a New World in Our Hearts, 5:30 p.m., Liquid Room Annex) whose gender journey has taken them ever since. taken in a non-binary direction. And then, I think, there I am – that transgender bird gone The voice with her outrageous posters all over town and an hour of musical stand-up about babies, boobies, bigots and Batman. (Jordan Gray: Is It A Bird? 22:25, The Box, Assembly, George Square).
To keep up to date with the latest opinions and comments, sign up for our free weekly Voices Dispatches newsletter at click here
I am not a political person. Like my genetically misplaced genitals, I definitely lean to the left, but ultimately I don't take it very seriously. But I like to think that my 2022 Edinburgh Fringe poster counts as a minor revolution. Suffice it to say, my naked body has been plastered all over town this year — albeit sniffles and todger are tactically obscured by a microphone and superhero cape. Far from any kind of public outcry, the poster is actually hotly tipped to win the coveted Comedy Awards "Poster Of The Year".
But if you ARE one of the "outraged" gentlemen who looks at you in disbelief, don't pretend I'm the first transgender woman you've ever seen. Statistically, your search history on the web differs. According to the numbers, you are the leading researchers in the field!
That is the combination of British sexual oppression and transgender demonization. You're just ashamed to admit that you might enjoy spending an hour with me in a dark room. Maybe that's why my tickets are selling like hot cakes?
Jordan Gray is a comedian, actor and screenwriter