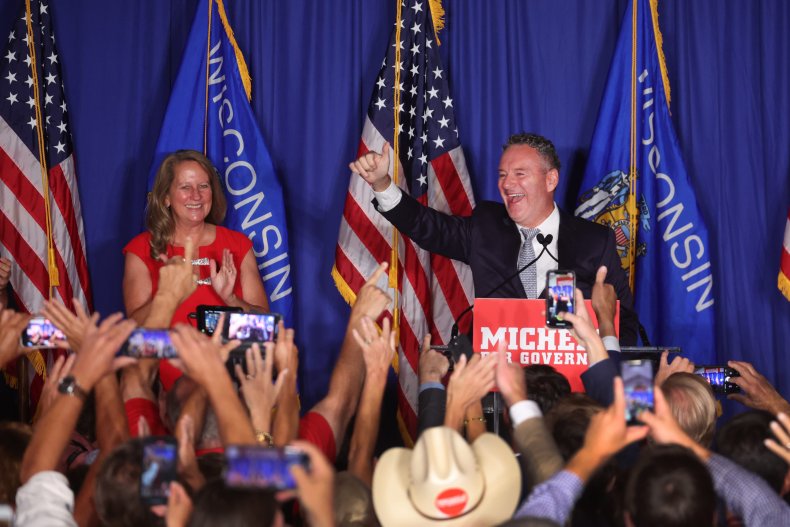 In the two weeks leading up to the Wisconsin Republican primary for governor, about $3.5 million in political advertisements appeared statewide against former Lieutenant Governor Rebecca Kleefisch.
According to the Wisconsin Democracy Campaign, an impartial watchdog group, ads funded by the conservative political action committee Club for Growth claimed that Kleefisch had spent her two terms as lieutenant governor using taxpayer money to attend foreign events hosted by the Chinese government. , while other ads claimed she was "too weak to lead".
Kleefisch's opponent, Republican entrepreneur Tim Michels, was never directly praised in Club for Growth's campaigns, but on August 9, Michels defeated the career politician in the Wisconsin gubernatorial election.
The Wisconsin election is one of several GOP state primaries that have seen a torrent of outside money this primary season. And while Super PACs always come into play during an election year, the influence of outside money — along with the support of former President Donald Trump — seems to be growing rapidly in the Republican Party.
"One of the things we're seeing is that Super PACs are essentially playing a role that the parties used to play," said Dan Birdsong, a professor of political science at the University of Dayton. "The party bureau as it is does not have the power or the resources or the ability to really recruit and elect the candidates they would like."
Kleefisch, who served as Lieutenant Governor of Wisconsin from 2011 to 2019, was an incumbent Republican who was considered a frontrunner by many after running for the governor's race in September 2021. Michels, on the other hand, who entered the race late April has spent much of his campaigning on being an outsider, as well as owning Wisconsin's largest construction company.
Michels now faces incumbent Democratic Governor Tony Evers, who has a 2.5 percentage point lead, according to research analysis website FiveThirtyEight.com.
Wisconsin Republican Party Executive Director Mark Jefferson said: News week in a statement this week that the Wisconsin GOP was careful not to get involved in the primaries "until voters ever had a chance to weigh in."
"Voters have very little faith in our current political leaders, and Tim Michels brought an outsider's call," Jefferson continued in the statement. "It was that call and his message of leadership that Tim Michels will bring to the governor's office in Wisconsin in November, not the amount of special interest money flowing into liberal groups to support his adversary, which is deserting our state at every turn. has left."
Birdsong told News week that in some races Super PACs' money, along with former President Trump's approvals, appears to reshape the Republican Party into its own image of conservatism, setting the boxes a candidate must check to succeed in and for the GOP.
Birdsong also noted the strength of the Club for Growth super PAC, which has influenced several GOP primary races this year by endorsing candidates who support their limited governmental and economic freedom policies, or by giving money directly to the candidate's campaign fund or by financing negative campaigns against their opponents.
According to Open Secrets, an impartial research group that tracks money in American politics, Club for Growth will be #1 in external spending by 2022, with more than $53 million in this election cycle — more than double the $22 million it spent in issued in recent years. last midterm elections in 2018.
Of its total spending, the group has spent more than 53%, or $28 million, on advertising targeting Republican candidates in the primaries, similar to that in Wisconsin targeting an incumbent politician like Kleefisch.
Another example of Club for Growth's influence this year was in the North Carolina state primaries in early May, where the groups, along with the School Freedom Fund PAC, spent more than $12 million on advertisements to help Representative Ted Budd rule the Republican Party. nomination for the Senate.
According to a Club for Growth release, the campaign involved both highlighting Trump's endorsement of Budd and campaigning against former North Carolina governor Pat McCrory. The release also claimed that before Club for Growth entered the race, polling data showed Budd was chasing McCrory.
"These super PACs have the ability to dictate or at least construct what it means to be conservative today," Birdsong said, "which isn't quite the same as what it meant to be conservative 20 years ago."
While the Club for Growth's campaigns have tended to align with former President Trump — it supported his 2020 reelection campaign — the PAC has this year distanced itself from Trump's endorsements, a development Birdsong suggested could serve to push the GOP further. divide.
An example of such a split occurred during the Ohio primaries in May, in which Club for Growth backed former Ohio treasurer Josh Mandel for the open senate seat. Trump, however, gave his support to conservative outsider JD Vance, putting the two forces to the test. Vance won the primaries.
In many of these matchups, a Trump-approved candidate outperforms those backed by powerful PACs like Club for Growth, raising the question of how far external money will determine or even control the GOP's future.
"When we focus on Trump, it's usually because of his support and not so much money," Birdsong said. "So it's really assuming he can wield power by doing an event or a few events to push that a little bit [candidate] across the line so to speak, instead of money that can get ads in the airways to attack or support [candidates]."