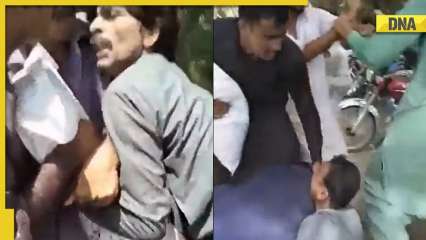 Pakistan's flour crisis worsens: People fight for subsidized flour in shocking video, stampedes reported in markets (Photos: Screengrab)
Pakistan flour crisis: Pakistan is facing its worst flour crisis ever, with parts of the country reporting wheat shortages. Stampedes were also reported in several areas in Khyber Panhtunkhwa, Sindh and Balochistan provinces.
Reports indicate that thousands of people spend hours each day acquiring the subsidized sacks of flour that are already scarce in the market. Meanwhile, some shocking videos have surfaced on the internet showing people fighting for flour sack.
PakistanFlourCrisisVisually from Sindh People were seen bickering over flour in Pakistan.

It is painfulPakistan economy ResilientPakistan pic.twitter.com/7qlSjh3rni— Bakhtawar Shah (@Shah_Bakhtawar1) January 10, 2023
Chaotic scenes can often be seen as people gather around vehicles pushing each other as the mini trucks and vans, escorted by armed guards, distribute the flour. A number of clashes have been reported at flour merchants and tandoors.
How are you…Gate

#PakistanEconomy #Pakistan pic.twitter.com/jgitifBIZR— Jyot Jeet (@activistjyot) January 10, 2023
Reports suggest that the struggle between the federal government and the government of Punjab is responsible for the wheat crisis in Pakistan. According to reports, the Punjab food department was unable to correctly estimate the amount of wheat to be imported. Wheat and flour prices have skyrocketed amid Pakistan's ongoing crisis, The Express Tribune reported.
READ | 'Khaana Mangoge Langar Denge': Gurugram activist leaves netizens in awe of viral campaign contribution

Flour prices in different cities
Flour in Karachi is sold from Rs 140 per kilogram to Rs 160 per kilogram. In Islamabad and Peshawar, a 10 kg sack of flour sells for Rs 1,500 per kilogram, while a 20 kilogram sack of flour sells for Rs 2,800. Mill owners in Punjab province have raised the price of flour to Rs 160 per kilogram.
Similarly, Khyber Pakhtunkhwa is facing its worst ever flour crisis as a 20 kilo sack of flour sells for Rs 3100 after the government failed to control the price of the stall, The News International reported.
Balochistan's Food Minister Zamarak Achakzai has said the province's wheat supply has "completely ended". He said Balochistan needed 400,000 sacks of wheat immediately and warned the crisis could worsen otherwise.
In addition, the situation has angered people in Khyber Pakhtunkhwa as the tandoors have also increased the price of bread, The News International reported. Except for bread, all bakery products are sold at high prices.
Prices of all food products and other goods have risen in recent years and governments have taken no action to control the situation, according to The Express Tribune report.
(with input from ANI)