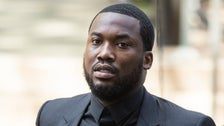 Rapper Meek Mill, who spent most of his adult life on probation following a teen arrest, celebrated the latest twist in his lawsuit Friday after being pardoned by Pennsylvania Governor Tom Wolf.
"I was pardoned today," the 35-year-old rapper born Robert Williams tweeted, noting that he has come a long way.
Under a photo of the pardon on Instagram, the Philadelphia rapper-turned-entrepreneur who has been active in criminal justice reform for years vowed to continue doing more for his community.
Wolf signed his final 369 pardons this week, adding to his Pennsylvania record in the number of pardons granted since taking office in 2015. Williams was pardoned on gun and drug charges.
At a 2008 trial, a judge found Williams guilty of drug and weapons charges and sentenced him to approximately one to two years in prison, followed by 10 years of probation.
The case came to a head in 2017, when the judge sentenced Williams to two to four years in prison for violating probation, citing a failed drug test, failure to comply with an order restricting his travel and two unrelated arrests . The judge made the ruling despite a prosecutor and parole officer recommending that Williams not be locked up.
Williams spent months in jail before being released, and a Pennsylvania appeals court overturned his conviction in 2019 because new evidence undermined the arresting officer's credibility. The following month, he pleaded guilty to a misdemeanor charge in a deal that resolved the 2007 arrest.