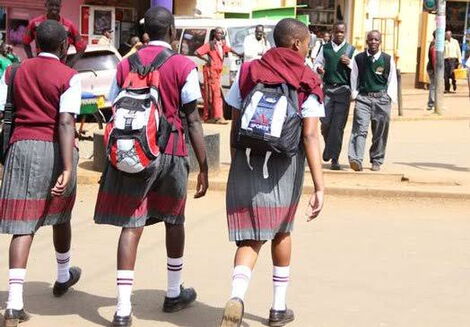 Principals of various schools across the country have been indicted on allegations of extortion of parents by laying wrongful charges as learning resumes.
Media reports have highlighted the plight of parents in the face of rising fees that are contrary to the original fee structures issued by different schools. Parents also denounced the dismissal of students home due to back tuition fees, despite the education ministry warning school leaders not to do the same.
"I don't know where to start. I am a farmer and the harvest has not gone well. I will have to sacrifice my child's education so that we can live," an aggrieved parent told media.
Kenyan students leave school for vacation in October 2021.
NMG
The fate of the parents was brought to light by the president of the National Parents Association, Nicholas Maiyo, who questioned the legality of the additional fees charged.
"The information we have received is that principals are devising new ways to extort parents. Our main concern is the legality or procedure of paying the money. Most of the time the amount is not used for. help our children, "he said. TBEN.co.ke
Maiyo noted that the association had received 54 fee structures from various schools across the country which were all different from those originally issued.
"Our main concern is the way the managers take money from us, it's not fair. You can't pay for something you don't know how the funds will be used for, that's pure theft and simple."
"Children these days are always on the road because they are sent home. This particularly affects primary schools and boarding schools, "he stressed.
Maiyo called on the Teachers Service Commission (TSC) to take immediate action against the principals found guilty.
Attempts to TBEN.co.ke Reaching Indimuli Kahi, president of the Kenya Secondary School Principals Association (KSSHA), for a response was unsuccessful as his appeals were unsuccessful at the time of publication.
The increase in tuition fees by principals has been a matter of concern to parents, who have even threatened legal action against those found guilty of ignoring Ministry of Education guidelines on tuition fees. schooling.
Some of the principals complained about the insufficient funds necessary for the functioning of their establishments.
Kahi, during a previous press briefing, stressed that schools must go to great lengths to finance institutions.
This comes despite the fact that the Ministry of Education recently released Ksh 17 billion as second trimester capitation for learners to cover primary and secondary schools. Of this amount, Ksh 2.62 billion went to primary schools, while Ksh 14.85 billion was allocated to secondary schools.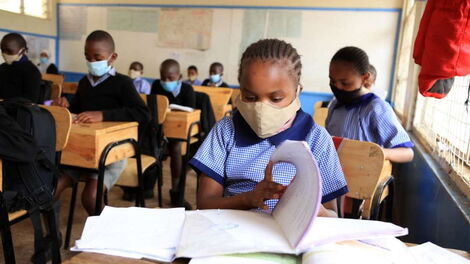 Fourth grade students at Moi Avenue Primary School in Nairobi, October 21, 2020.
Daily Nation