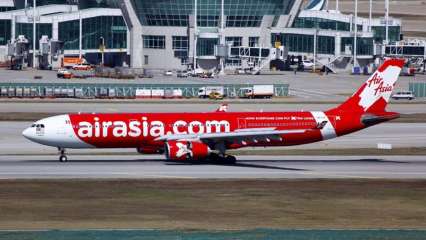 In a shameful act, a passenger on an AirAsia flight from Bengaluru to Delhi stripped off all his clothes after an argument with crew members while traveling on the plane. The incident occurred on Tuesday as the man arrived in Delhi from Bangalore on Air Asia flight number I5-722.
A passenger on the flight told the ANI News Agency: "The passenger first started arguing with the cabin crew about the life jacket, then began to misbehave. After that, flight staff tried to calm him down, but in the meantime AirAsia India spokesperson confirmed the incident, saying that a passenger from Bangalore to New Delhi on April 6, 2021, had misbehaved with crew members.
A crew member somehow controlled the situations with the help of other passengers on the flight and briefed the pilot on the whole matter. After that, the pilot took the matter seriously, approached the Delhi Air Traffic Controller (ATC), briefed on the incident and got clearance to land early. Shortly after landing, the passenger was handed over to the police with the help of the CISF.
Delhi Police have registered a case against the passenger in the appropriate section. For this passenger action, he may be placed on the airline's no-fly list as part of the disruptive passenger management policy. The investigation into the case is still ongoing and action will be taken against this person under the Passenger Safety Act.
.