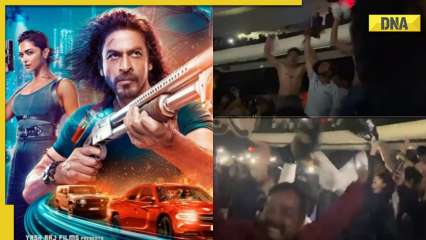 Shah Rukh Khan's highly anticipated movie Pathaan starring Deepika Padukone, John Abraham, Ashutosh Rana and Dimple Kapadia has been released and is doing very well at the box office. SRK fans are going crazy after seeing the movie, the videos are going viral on social media.
In one of the videos, fans can be seen dancing in movie theaters to Pathan's controversial song Besharam Rang. One of the social media users shared the video with the caption, "#PathaanReview Shah Rukh Khan gives a best performance in the high octane action movie #Pathaan and he deserves this hooting."
Watch video:

Shah Rukh Khan delivers the best performance of his career in this high-octane action flick #Pathan and he deserves this hooting#pathan #pathanreviews #ShahRukhKhan pic.twitter.com/6kutOp7w31— shanu khan (@shanukhan013) January 25, 2023
With one of the biggest releases of the year 2023, Pathaan, hitting the silver screens on Wednesday, movie theaters across the country saw an outpouring of moviegoers creating unprecedented scenes in theaters. Several videos of SRKians cheering for the superstar outside theaters are going viral on the internet.
In Mumbai's Bandra West, a certain segment of the fans drew huge posters of SRK's avatar in Pathaan, wore Pathaan T-shirts and cut huge cakes outside the theatres. Also in Delhi, hordes of fans had gathered outside theaters to watch the first day of the film's first show.
ANI spoke to one of the fans about this fandom, who said, "Shah Rukh Khan. After so many years, his film is coming out, so we are very excited about the film and also sure it will be a hit." The iconic Victory Theater in Pune witnessed the joy of fans flocking to the theatre. They celebrated outside the cinema hall as they expressed their joy through blasting fireworks and colorful smoke bombs. Kolkata also saw similar fandom where one fan expressed his delight saying "I am very excited. I have booked tickets for both morning and evening shows."
Part of Aditya Chopra's ambitious espionage universe, Pathaan stars the country's biggest superstars – Shah Rukh, Deepika Padukone and John Abraham. It also stars Dimple Kapadia and Ashutosh Rana in pivotal roles. SRK is paired with Deepika in the movie, which is his first release in over 4 years. He and Deepika are one of the greatest onscreen duos in the history of Indian cinema having worked in films like Om Shanti Om, Chennai Express and Happy New Year.
READ: Pathaan: Katrina Kaif aka Tiger's 'Zoya' gives shoutout to Shah Rukh Khan's film, Deepika Padukone responds
For the inexperienced, Pathaan is meant to kickstart YRF's Spy Universe. Tiger (Salman Khan) and Kabir (Hrithik Roshan from War) come along with Pathaan to protect the country from enemies. In Pathaan, Salman makes his appearance as Tiger in an action-packed 10-minute sequence. A glimpse of the scene is already out and fans are calling it the "best scene" from the movie. One user leaked the scenes as stills and wrote, "TIGER literally owns #Pathaan throughout the entire scene and @iamsrk couldn't help but watch him brutally eclipse him in the movie." Major spoilers ahead. (with input from ANI)