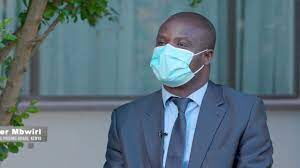 The Pharmacy and Poisons Board has released a clarification following reports that a person had died after taking the Oxford AstraZeneca Covid-19 vaccine.
The council denied the claims, saying no one had died from the vaccine and called the reports savage disinformation.
"There was a false declaration of an adverse event after immunization (AEFI) as fatal. The council also wishes to state that of the reported cases, 272 were mild and resolved within a short period of time," it reads. in a press release from the PPB.
The Board of Directors assured that all reported serious AEFI cases are investigated and that none of them have resulted in a fatal outcome.
The Deputy Director of the Pharmacy and Poisons Board (PPB) Dr Peter Mbwiiri Ikamati
Deposit
According to PPB, the seven serious AEFI have been resolved. The council further called on the public to report any suspected reactions or even death from the vaccine.
PPB deputy director Dr Peter Mbwiiri Ikamati had earlier said the agency was investigating a death that occurred after a Kenyan was given the dose of the vaccine.
Dr Collins Taabu, who heads the national vaccine and immunization program, dismissed the report, saying there was no connection and the cause of death was not yet established.
Ikamati then retracted her statement, citing an error and saying what was reported was the case of a woman who had miscarried.
The Council approved the Covid-19 vaccine manufactured by AstraZeneca in February, paving the way for the vaccine's deployment in the country.
Chief Administrative Secretary for Health Mercy Mwangangi allayed concerns about the vaccine by noting that no sequelae had been recorded among TBEN who had taken the vaccine.
"In terms of vaccine safety, Astrazeneca has undergone the necessary tests and has already received approval from the World Health Organization (WHO).
CS Mutahi Kagwe reported that 40 minor events were reported through the Covid-19 vaccine monitoring app. Dr Aman noted that minor cases were expected.
"The recorded events are not significant to justify investigations", he assured. He added that military medics made up the largest number of people who received the vaccine at 74,698 as of April 1.
Chief Health Officer Dr Mercy Mwangangi
Twitter