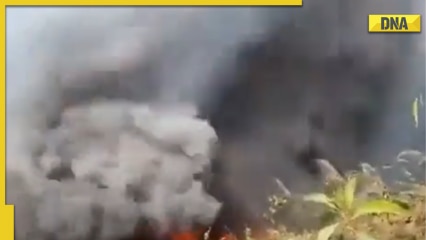 The Yeti Airline plane crash in Nepal claimed the lives of 68 of a total of 72 people on board, making it one of the deadliest plane crashes in the country's history. The flight to Kathmandu exploded in a fiery crash on Sunday morning.
Now a video has surfaced on social media showing the moment when the Nepalese flight crashed at the airport, eventually leading to a fiery explosion. The chilling video of the Yeti Airline plane crash is doing the rounds on social media.
The twin-engine ATR 72 aircraft from Kathmandu crashed into the runway of Pokhara International Airport just as it landed and exploded in flames. The Pokhara-Kathmandu flight had 68 passengers and four crew members on board, of which 68 people have died so far.


The video, reportedly recovered from the mobile phone of one of the passengers on the Nepal flight, begins with several passengers sitting on the plane, which appears to be landing at Pokhara International Airport.
The person filming on their mobile phone then turns out the plane window and shows the wing of the flight. After a few moments, the wing begins to tilt to the left as it approaches the runway, as the camera turns on darkness.
The Yeti Airline plane then crashes into the runway and the flames from the plane crash can be seen on camera. Appearing to be engulfed in flames, the plane disintegrates, with the gruesome video cut to black soon after.
There were five Indian passengers on board the Nepal flight that crashed in Pokhara, and they all belonged to the Ghazipur district of Uttar Pradesh. According to media reports, video of the crash was filmed by Indian passenger Sonu Jaiswal, who was doing a Facebook Live session at the time of landing.
READ | Nepal plane crash kills 68: A look at the worst air disasters in the past 5 years