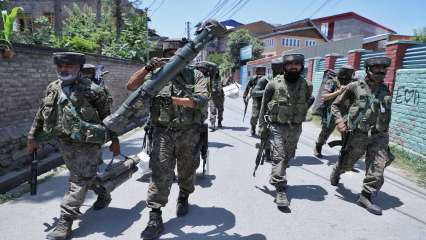 Prime Minister Narendra Modi held a review meeting on the Nagrota meeting on Friday. During this meeting, the Home Secretary, the NSA, the Minister of Foreign Affairs and a senior intelligence officer also attended the meeting. Four activists in a truck loaded with bags of rice entered the Nagrota area of ​​Jammu district early Thursday to stir up unrest in the Kashmir valley. Upon receipt of the intelligence report, the Jammu and Kashmir army and police erected a barrier near Ban Toll Square at around 5 a.m. The terrorists sought to take advantage of the darkness. A group of terrorists opened fire on security forces while checking vehicles. After that, the meeting began.
Terrorists were trying to cross the toll by sitting in the truckThe terrorists started shooting at the security forces sitting in the truck. In response, the security forces blew up the truck itself. The terrorists then fled to the nearby forest. The four terrorists were killed in a joint military and police operation before they could commit a terrible incident. Two SOGs from Jammu and Kashmir were also injured during the meeting. A huge amount of ammunition was recovered from the terrorists.
The movement of this truck was recorded on November 9 in LakhanpurThe movement of this truck carrying terrorists to Kashmir was recorded in Lakhanpur on November 9. Even after researching the CCTV footage and checking the recordings, there is no idea how this truck entered the state via Lakhanpur. It is speculated that this truck could have entered the state from a minor post in such a situation. Previously, the same truck entered the state via Lakhanpur at 8:51 a.m. on November 1.
Kashmir truck registration numberDespite the state government's ban on interstate roads, if the truck is removed from a minor station, it can also be considered a major safety fault. Due to the Corona outbreak, only Atal Setu and Lakhanpur have been opened to car traffic on the state's interstate roads. The registration number of the truck from which the terrorists were traveling to Kashmir was from Kashmir. This license plate was also revealed to be fake. That number was Mahindra's van. Measures have also been taken in parts of Kashmir to sabotage the terrorist network.
The operations of the army and the police were appreciated in this regard. Army chief Manoj Mukund Narwane has made it clear to terrorists in Pakistan that terrorists who attempt to infiltrate India by crossing the Line of Control (LoC) will not survive.
.