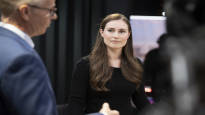 Prime Minister Sanna Marin (SDP) said on Sunday it was " irresponsible " for high schools in the capital region to reconnect with education.
"I am worried about the situation. Some regions, like the capital region, have chosen to ease restrictions against advice from public health officials and government recommendations," she said. plans by the Helsinki metropolitan region to bring upper secondary education into partial contact. learning since early March.
The prime minister said that although she sympathizes with young people, the coronavirus situation in the country has worsened as a mutated form of the virus spread in the Helsinki metropolitan area.
She, however, said she did not believe it would take Finland until next year to achieve herd immunity and noted that some restrictions aimed at tackling the virus could be dismantled before the country does not achieve the protection of the herd.
Marin said she agreed with the chair of the constitutional law committee Antti Rinne's (SDP) recent proposal to target vaccines in areas with the highest infection rates.
"There is no reason to change the order of vaccination yet, but we may review the vaccination strategy. Places with a lot of people could have a base to get vaccinated."
She also said Finland would be able to lift restrictions on public gatherings this summer if infections remain under control this spring. She said any rule change depended on the country's vaccination speed.
Elections ok
Marin said preliminary polls suggest voter turnout in the April local elections will not be affected by the coronavirus situation. That said, the Prime Minister opposed the idea of ​​postponing the municipal elections for virus reasons.
Marin recently overtook a Yle survey of people's favorite presidential candidates. When asked about running for president in 2024, Marin did not give a straightforward answer, saying she was focusing her attention on being prime minister.
"As leader of the Social Democratic Party, I can say that the SDP will nominate a qualified candidate for the post."