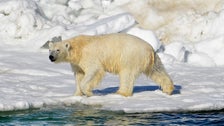 A polar bear mauled and killed a woman and a boy on Tuesday afternoon after chasing residents in the remote village of Wales, western Alaska.
The animal was shot dead by another local resident during the terrifying attack, Alaska State Troopers said.
The names and ages of the victims have not yet been released.
"Initial reports indicate that a polar bear had entered the community and chased several residents," troopers said in a post on their website.
"Troopers and the Alaska Department of Fish and Game are working to travel to Wales weather conditions permitting," it added.
Deadly polar bear attacks in Alaska are "extremely rare," the Anchorage Daily News noted Tuesday in its report on the tragedy. The newspaper recalled one death from a bear attack in 1990 and another serious mauling in 1993.
According to the Alaska Department of Fish and Game, male polar bears can weigh over 1,700 lbs and grow up to 10 feet in length.
"Current and predicted future reductions in sea ice" have labeled the animals with endangered status and may force them to seek food elsewhere, the department added.