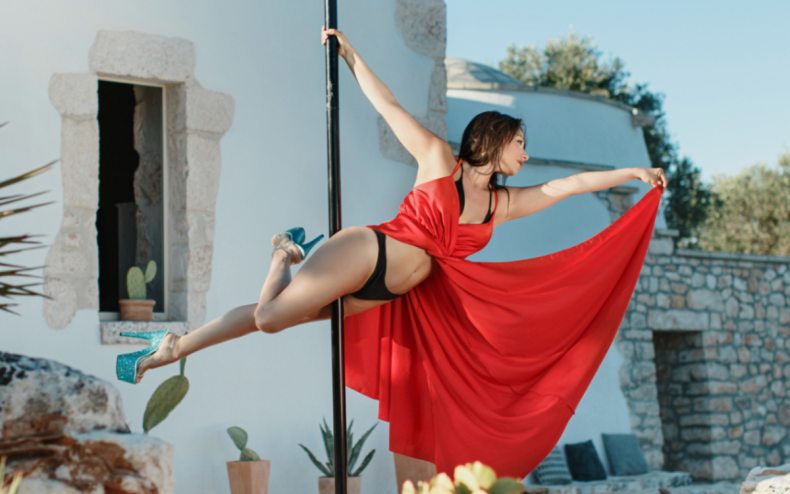 Footage of a pair of pole dancing bridesmaids posing with the bride for a wedding photo with a difference has got people talking online.
A video of the spectacular photo shoot was shared on TikTok by one of the bridesmaids, Zoe, who posted the clip to her account zo.and.arrow. Check it out here.
The video shows Zoe and another woman climbing the pole with the bride at the bottom. "Climbing the pole in a long bridesmaid dress wasn't easy," Zoe captioned the clip.
It may not have been easy, but their efforts have not gone unnoticed: the images have been viewed 5.6 million times in just a few days.
While some may be tied to tradition when it comes to their wedding, New York City wedding planner Marcy Blum believes the key to a successful day is staying "authentic." Blum told Fashion: "There is no substitute for a wedding that really evokes the bride and groom as a couple."
"If you like chocolate or molecular gastronomy, hip hop or Scotch, definitely pick them up," she said. "Just don't do it because your friends had it at their wedding, or you saw it on a list of smart wedding ideas."
In this case, the bride's passion for pole dancing was channeled on their big day, and the results received high praise on social media.
As the caption of the video indicates, the woman Zoe served as bridesmaid is an avid pole dancer herself and regularly posted on Instagram as pd.katt. The pair are clearly also close and often refer to each other as their "pole wifey."
Zoe is based in the UK where, just like in the US, pole dancing has quickly become a popular activity for those looking to keep fit and socialize. YouGov data places it as the 43rd most popular physical activity in the UK, just after cricket and marathon running.
In that sense, this form of activity has shaken off the previous associations it had with the seedier side of nightlife.
Still, it's not something you would necessarily associate with a wedding. However, if the reaction to Zoe's video online is anything, it may not be for long.
"That's brilliant," Skyorkie said. "Maybe I'll steal the idea for my own wedding." Karina Ferry agreed, "what a great idea looks great."
Aisharameswari tagged a friend in the video, writing, "we should do this like this," while Kat Core concluded, "I need pole dancing friends."
Elsewhere, _demisha was just impressed that they did it in their wedding attire.
"I can't imagine the climb in a dress," they said. "But the result is amazing!!"
News week has contacted Zo.and.arrow and pd.katt for comment.